[bsa_pro_ad_space id=4]
10-04-2018 – 01-01-1970
Electronic Auction 418
Classical Numismatic Group Electronic Auction 418
CNG's Electronic Auction 418 features 715 lots closing on 11 April 2018, beginning at 10 AM ET.
Lot 106: Kings of Macedon. Philip III Arrhidaios. Tetradrachm (in the name and types of Alexander III), circa 323-317 BC (struck under Antipater or Polyperchon), Pella mint. VF. From the Colin E. Pitchfork Collection. Estimate: $300.
This sale sees selections from several collections and groups available again: Alexander-type tetradrachms from the Colin Pitchfork Collection …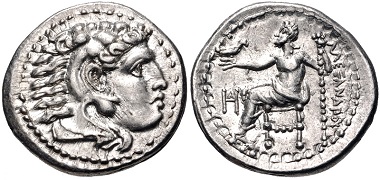 Lot 68: Kings of Macedon. Alexander III 'the Great', 336-323 BC. Drachm, circa 325-323 BC (struck under Philoxenos), Miletos mint. EF. Estimate: $300.
… a group of choice Alexander drachms, Thessalian issues from the BCD Collection, …
Lot 536: Manuel II Palaeologus, 1391-1425. Half Stavraton, Light (Class II) coinage, 1403-1425, imperial (Constantinople) mint. Good VF. From the Iconodule Collection. Estimate: $200.
… Parthian from the Nisa Collection, and Byzantine issues from the Iconodule Collection.
Lot 563: France, Troisième République, 1870-1940. Copper Medal: Voyages d'etudes medicales by Raoul Bénard. Dated 1922. Presented to Dr. M. Milhaud. EF. Estimate: $100.
Especially exciting is a group of French art medals, presented with detailed notes from the collector. Another broad selection of large lots closes out this auction.
To view the sale online, click here.