[bsa_pro_ad_space id=4]
09-08-2016 – 01-01-1970
CNG Electronic Auction 380
Classical Numismatic Group Electronic Auction 380 is live
CNG Electronic Auction 380 is closing on Wednesday, 10 August, beginning at 10 AM ET. Prominently featured are Greek, Roman Provincial and Imperial coins, as well as World coins and medals, but also Celtic, Central Asian, Byzantine, Early Medieval, and Islamic coins.
Lot 7: Calabria, Tarentum. Circa 450-440 BC. Nomos. Fischer-Bossert Group 12, 172 (V83/R121); Vlasto 186; HN Italy 844. Very Fine, toned, struck from a worn obverse die. Estimate: $500.
The sale opens with a run of Tarentine silver nomoi, …
Lot 114: Kings of Macedon. Antigonos I Monophthalmos. As Strategos of Asia, 320-306/5 BC. Tetradrachm. Price 3515; Good Very Fine, lightly toned, slight die shift on obverse, cleaning scratches on reverse. From the collection of Will Gordeon. Estimate: $300.
… followed by the Dr. Will Gordon Collection of Alexander-type coinage and the AG Collection of fractions.
Lot 466: Anonymous. 169-158 BC. Denarius. Crawford 182/1; Sydenham 283; RSC 20n. Good Very Fine, dark tone, some minor marks under tone, hairline flan crack, area of corrosion on edge. From the RBW Collection. Estimate: $100.
Additional pieces from the BCD Collection are available throughout the Greek and Provincial sections, as well as from the RBW Collection, primarily in the Republican section.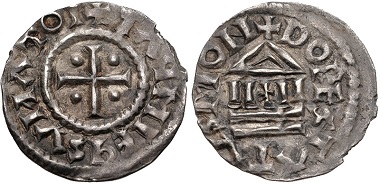 Lot 542: Carolingians. Lothaire I. As Emperor, 840-855. Denier. Coupland, Lothar, pp. 173-5, and pl. 36, 28; Depeyrot 419 var. (obv. legend). Good Very Fine, toned, minor areas of weak strike at periphery. From the estate of Thomas Bentley Cederlind. Estimate: $300.
Lots from the estate of Thomas Bentley Cederlind are scattered throughout the sale.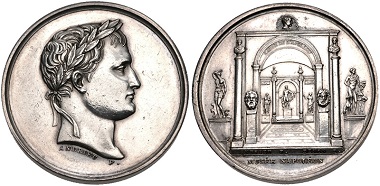 Lot 630: France, Premier Empire. Napoleon I. 1804-1814. Medal. Bramsen 370. Good Very Fine, cleaned, scattered marks. Estimate: $100.
Finally, the sale closes with an impressive selection of medals on various themes.
To browse the entire auction catalogue, please click here.