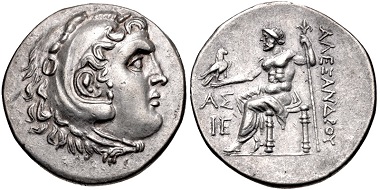 [bsa_pro_ad_space id=4]
23-08-2016 – 01-01-1970
CNG Electronic Auction 381
Classical Numismatic Group Electronic Auction 381
CNG Electronic Auction 381 is closing on Wednesday, 24 August, beginning at 10 AM ET. This sale is comprised of 759 lots, and presents coins from a handful of important collections.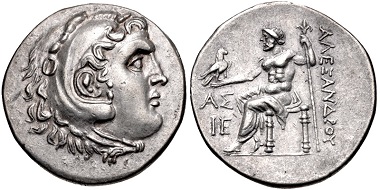 Lot 204: PAMPHYLIA, Aspendos. Circa 212/11-184/3 BC. Tetradrachm. Price 2894; DCA 312. Near extremely fine, toned. From the collection of Will Gordon. Estimate: $300.
In the Greek section, the Dr. Will Gordon Collection of Alexander-type coinage and further pieces from the BCD Collection provide an array of silver and bronze pieces for the collector.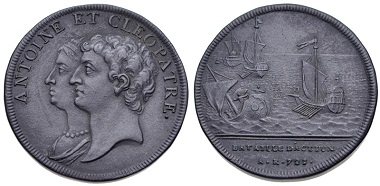 Lot 582: HANOVER, temp. George III. 1760-1820. Black Basalt Porcelain Medal. Roman Series: The Battle of Actium, 21 BC. By Josaiah Wedgewood after the original of J. Dassier and sons. Eisler 55a. Good very fine. From the RBW Collection. Estimate: $100.
Selections from the RBW Collections are once again available in the Celtic, Roman Republican, and Medals sections, …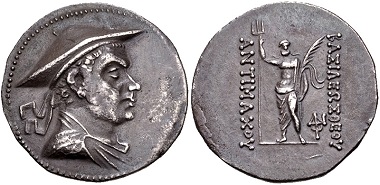 Lot 275: BAKTRIA, Greco-Baktrian Kingdom. Antimachos I Theos. Circa 180-170 BC. Tetradrachm. Bopearachchi 1A; HGC 12, 106. Very fine. From the estate of Thomas Bentley Cederlind. Estimate: $300.
… and coins from the estate of Thomas Bentley Cederlind can be found throughout the auction.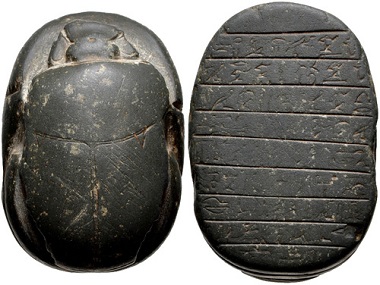 Lot 683: 3rd Intermediate Period. 1069-664 BC. Green stone (siliciclastic indurated stone) heart scarab (55x38mm) quoting Spell 30B from the Book of the Dead. From the Carl Devries Collection. Estimate: $1000.
The sale closes with an exceptional antiquities section, featuring Egyptian artifacts from the Carl Devries Collection, part II. A former Egyptologist with the University of Chicago, Dr. Devries (1921-2010) excavated in Egypt for over two decades as a member of the Oriental Institute. It was during this time that he assembled a remarkable collection, one particularly strong in scarabs (ancient seals in the form of the sacred beetle), acquiring most of his pieces in Luxor from the noted antiquities dealer Sayed Mollatam. Devries was forced to retire from academia in 1975 due to deteriorating vision resulting from a childhood accident, but he remained very active in church life and served as a substitute pastor in the Chicago area for a number of years.
To browse the entire eAuction catalogue, please click here.