[bsa_pro_ad_space id=4]
17-05-2016 – 01-01-1970
CNG 102
CNG Internet and Mail Bid Sale 102
Classical Numismatic Group presents its spring Internet and Mail Bid Sale 102, closing electronically on Wednesday, 18 May 2016, from 10 am ET (US). This sale offers 1571 lots with a presale estimate in excess of $2,900,000. The auction highlights Greek, Celtic, Oriental Greek, Central Asian, Roman Provincial, Republic, and Imperial coinage. Additionally, there are featured selections of Byzantine, Early Medieval, Islamic, World Medals, British, and British Medals.
General selections of coins are included throughout the sale from the estate of Thomas Bentley Cederlind and the collection of J. Eric Engstrom.
Lot 155: Sicily, Syracuse. Dionysios I. 405-367 BC. Tetradrachm. Tudeer 104 (dies 35/71). Near EF, attractive cabinet tone, reverse a touch off center. Estimate $5,000.
The Greek section is also highlighted by coins from the collections of Allan Smith M.D., Byron Schieber, M.A. Armstrong, Colin E. Pitchfork, and Dr. Will Gordon. In addition, there are selections of fractions from the AG collection and electrum from the LVL collection. Many of these coins have earlier pedigrees. The Oriental Greek section includes an offering of 20 Parthian tetradrachms and several important pieces of Baktrian gold.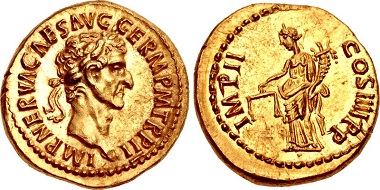 Lot 924: Roman Empire, Rome. Nerva. Struck AD 98. Aureus. Cf. RIC II 44 for type (denarius), otherwise unpublished. EF, lustrous. Unique. Estimate $50,000.
In the Republican and Imperial section, offerings from the Volteia, Schieber, and LVL collections in addition to coins from Cederlind and Engstrom can be found. The Imperial section offers over 90 Roman aurei and a nice selection of Roman bronzes, many from the Cederlind estate. All bronzes are free from many of the problems normally encountered with bronzes on the market today.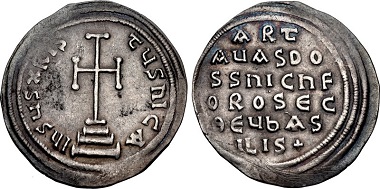 Lot 1174: Byzantine Empire, Constantinople. Artavasdus, with Nicephorus, 741/2-743. Miliaresion. DOC 6; SB 1545. VF, toned, light scratches. Very rare. Estimate $2000.
The Byzantine section offers coins from the M.A. Armstrong collection, which includes a number of Sear 'Byzantine Coins and Their Values' plate coins. The early Medieval section is highlighted by coins from the R.D. Frederick Collection and the Cederlind estate, while the World section includes further selections from Engstrom, Cederlind, and Group SGF. There is also a selection of Viking related coinage that can be found under Denmark and Sweden.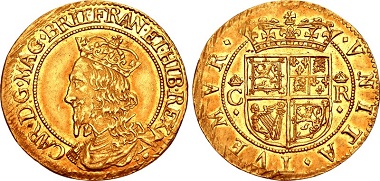 Lot 1553: Scotland, Charles I. Struck 1637-1642. Half Unit – Double Crown. SCBC 5534. Near EF, lightly toned, minor adjustment marks. Rare. Estimate $5,000.
CNG 102 features a strong selection of English coinage. This section is comprised of 160 lots, and includes coins from the Cederlind estate, the R.D. Frederick, Dr. Andrew Wayne, and LVL collections. Included from Dr. Wayne are a number of rare Saxon mints, and the LVL offering consists of 19 pieces of Scottish gold.
The World and British sections conclude with offering of medals that include several rare Dutch pieces in gold and the Eimer plate coin for the Charles I, Dominion of the Sea medal.
The well-rounded sale offers something for everyone. Catalogs have been mailed to the firms active mailing list and bidding is open on the site.
To browse through the complete auction catalogue on CNG's website click here.