[bsa_pro_ad_space id=4]
28-06-2016 – 01-01-1970
CNG Electronic Auction 377
Classical Numismatic Group Electronic Auction 377
CNG Electronic Auction 377 features 765 lots and is closing on Wednesday, 29 June, beginning at 10 AM ET.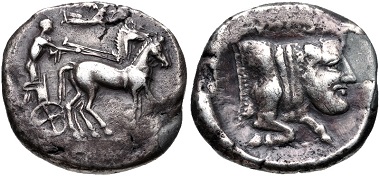 Lot 9: Sicily, Gela. Circa 440-420 BC. Tetradrachm. Jenkins, Gela, Group V, 374 (O75/R151); HGC 2, 345. Very fine, toned, fields smoothed, one area restored. From the Colin E. Pitchfork Collection. Estimate: $200.
This auction opens with a small selection of south Italian and Sicilian issues from the Pitchfork Collection, …
Lot 214: Thessaly, Koinon of Thessaly. temp. Nero. Triassarion. Struck AD 66/7-67/8. Burrer Em. 2, – (unlisted dies, though cf. R45 for a similar type); BCD Thessaly I -. Near very fine, green patina. Extremely rare. From the BCD Collection. Estimate: $75.
… followed by additional Greek and Roman provincial issues from BCD.
Lot 285: Egypt, Alexandria. Commodus. Tetradrachm, Dated RY 29 of Marcus Aurelius (AD 188/9). Köln 2242-3; Dattari (Savio) 3903. Very fine, dark gray-brown surfaces, some minor porosity. From the Hermanubis Collection. Estimate: $300.
An attractive group of Alexandrian tetradrachms from the Hermanubis Collection are again available, …
Lot 172: Kings of Parthia. Mithradates II. Tetradrachm. Struck circa 119-109 BC. Sellwood 24.3; Sunrise -. Near extremely fine, light flan flaw on obverse. Estimate: $750.
… as is an extensive run of Parthian tetradrachms.
Lot 730: Becker restrikes. Anonymous. Circa 300/280-276. "Didrachm" Restrike. Dies by Carl Wilhelm Becker (1772-1830). Hill 135. Superb extremely fine, toned a few faint scratches. From the RBW Collection. Estimate: $150.
Also additional pieces from the RBW Collection will be presented, both regular Roman Republican issues and modern medals with a Republican theme.
To browse the entire auction catalogue, please click here.