[bsa_pro_ad_space id=4]
14-06-2016 – 01-01-1970
Electronic Auction 376
Classical Numismatic Group Electronic Auction 376
CNG Electronic Auction 376 features 830 lots and is closing on Wednesday, 15 June, beginning at 10 AM ET.
Lot 409: Roman Republic. L. Aemilius Lepidus Paullus. 62 BC. Denarius. Crawford 415/1). Extremely fine, toned, off center, die break on obverse. From the RBW Collection. Estimate: $100.
This auction presents additional pieces from the RBW Collection, not only in the flagship Roman Republican section, but also in the Greek and Celtic sections.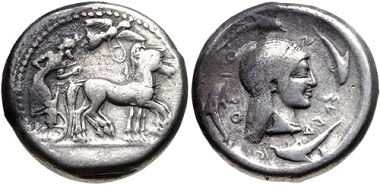 Lot 22: Sicily, Syracuse. Hieron I. 478-466 BC. Tetradrachm. Struck circa 478-475 BC. Boehringer Series IXa, 197 (V88/R136); HGC 2, 1306. Near very fine. From the Colin E. Pitchfork Collection. Estimate: $300.
Greek issues from the BCD and Pitchfork Collections are available as well, …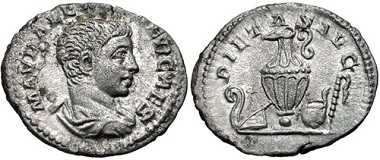 Lot 467: Roman Republic. Severus Alexander. As Caesar. AD 222. Denarius. Struck under Elagabalus. RIC IV 3. Near extremely fine. Rare. From the M. A. Armstrong Collection. Estimate: $500.
… and selections from the Armstrong Collection are spread throughout the sale.
Lot 603: Byzantine. Maria Doukaina Palaiologina. Empress, 1295-1320. PB seal. BLS I 126a. Very Fine, glossy brown surfaces. Rare. Estimate: $500.
Of particular interest to the Byzantinist, this auction also features an impressive array of lead seals from the late Roman period and later. The usual array of group lots concludes the sale.
To browse through the complete auction catalogue please click here.