[bsa_pro_ad_space id=4]
09-02-2016 – 01-01-1970
Electronic Auction 368
CNG's Electronic Auction 368 online
Classical Numismatic Group's Electronic Auction 368 will be closing on February 10, 2016, at 10 AM ET offering 741 lots.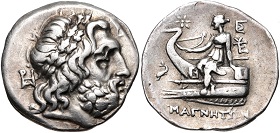 Lot 40: THESSALY, Magnetes. Circa 168-140 BC. BCD Thessaly II 415.2; HGC 4, 58. Good VF. From the BCD Collection. Estimate $200
The sale features further selections from the BCD Collection, followed by an unusually interesting group of Celtic coins, mostly from Gaul.
Lot 339: EGYPT, Alexandria. Severus Alexander. AD 222-235. Potin Tetradrachm. Dated RY 1 (AD 222). Dattari (Savio) 4386; K&G 62.23. Good VF. From the Hermanubis Collection. Estimate $150.
In the Roman Provincial section, further Alexandrian tetradrachms are available from the exquisite Hermanubis Collection.
Lot 597: ISLAMIC, Mongols. Golden Horde. Möngke (Mengu) Timur. AH 665-679 / AD 1267-1280. Half Dirham. Bulghar mint. Album 2020N; cf. Zeno 159157 (for type). VF. Very rare. Estimate $200.
In the Islamic and World sections, a delightful array of Mongol issues of the Golden Horde, as well as contemporary coinage from eastern Europe, can be found.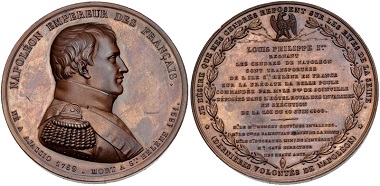 Lot 679: FRANCE, Premier Empire. Napoléon I. 1804-1814. Medal. Return of Napoléon's Remains from St. Helena to the Hôtel des Invalides. By Caqué. Triply dated 1769, 1821, and 10 June 1840. Bramsen 1994. Near EF. Estimate $100.
A collection of world medals and a small group of large lots rounds out the sale.
To browse through the complete auction catalogue please click here.