[bsa_pro_ad_space id=4]
15-12-2015 – 01-01-1970
Electronic Auction 365
CNG's Electronic Auction 365 online
Classical Numismatic Group's Electronic Auction 365 will be closing on December 16, 2015, at 10 AM ET offering 647 lots.
Lot 21: BRUTTIUM, Rhegion. Circa 415/0-387 BC. Hemidrachm. Herzfelder pl. XI, I; HN Italy 2498. VF, lightly toned. Well centered. From the Camerata Romeu Collection. Estimate $200.
Selections from both the Camerata Romeu and BCD Collections are once again available in the Greek section …
Lot 201: PHOENICIA, Tyre. 126/5 BC-AD 65/6. Shekel. Dated CY 14 (113/2 BC). DCA-Tyre 27 var. (monogram); Rouvier 1988 var. (same); BMC 79-80 var. (same); DCA 919; HGC 10, 357. VF, toned, some roughness. Estimate $300.
… as well as a run of shekels of Tyre.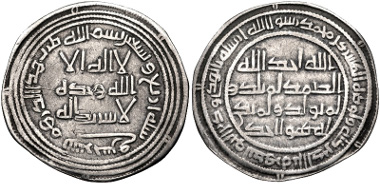 Lot 413: ISLAMIC, Umayyad Caliphate. temp. al-Walid I ibn 'Abd al-Malik. AH 86-96 / AD 705-715. Dirham. Sarakhs mint. Dated AH 94 (AD 712/3). Klat 454a; Album 128; Wilkes 272. VF, toned, a few light marks. Rare. Estimate $250.
Islamic collectors can choose from a group of silver and bronze issues of the Umayyad and 'Abbasid Caliphates.
Lot 538: STUART. Charles I. 1625-1649. Shilling. Second milled (Nicholas Briot's) issue. Tower (London) mint under Briot. Brooker 725-6; North 2305; SCBC 2859. Good VF, toned, light haymarks and adjustment marks. Estimate $750.
The later portion of the sale features medieval European and British coins from various collections, as well as a group of medals relating to the Americas. This auction is rounded out by an extensive set of scarce electrotypes and the usual array of group lots.
To browse through the complete auction catalogue please click here.