[bsa_pro_ad_space id=4]
12-07-2016 – 01-01-1970
Electronic Auction 378
Classical Numismatic Group Electronic Auction 378
CNG Electronic Auction 378 features 780 lot and closes on Wednesday, 13 July, beginning at 10 AM ET.
Lot 11: IBERIA, Ekualakos. Circa 150-100 BC. AE Unit. ACIP 1848; SNG BM Spain 1031-5. Good Fine, brown surfaces. Ex Archer M. Huntington Collection. Estimate: $100.
The auction opens with a number of Spanish bronzes originating from the Archer M. Huntington Collection, …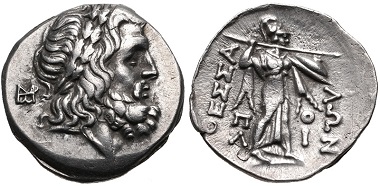 Lot 131:THESSALY, Thessalian League. Mid-late 2nd century BC. AR Stater. BCD Thessaly I 1370 (same obv. die); BCD Thessaly II 813; HGC 4, 208. Near EF, some light marks on the reverse. From the BCD Collection. Estimate: $200.
… followed by additional Thessalian issues from the BCD Collection, and Carthaginian and Kyrenaican issues from the J. P. Righetti Collection.
Lot 693: ITALY. Palamedes. Silvered PB Medal. After Valerio Belli. Burns 221; Attwood 342. VF, fields chased, edges filed. From the RBW Collection, purchased from John Jencek. Estimate: $150.
Pieces from the RBW Collection, spanning the Greek, Dacian, Roman Provincial, Roman Republican, and Medals sections, are again available.
Lot 532: BYZANTINE, Coin Weights. 6th-7th centuries AD. AE Eight Nomismata Weight. Cf. Bendall, Weights, 137-8 (for type); cf. Geneva 143 (same). VF, green surfaces. Estimate: $100.
Finally, an interesting and varied group of Byzantine bronze weights are available for the specialist collector.
To browse through the complete auction catalogue please click here.