[bsa_pro_ad_space id=4]
01-12-2015 – 01-01-1970
Electronic Auction 364
CNG's Electronic Auction 364 online
Classical Numismatic Group's Electronic Auction 364 will be closing on December 2, 2015, at 10 AM ET offering 668 lots.
Lot 11: Anonymous. Circa 214 BC. Didrachm – Quadrigatus. Mint in Sicily. Crawford 42/1; Hersh, Quadrigatus 11a; Sydenham 66; RBW 137; RSC 24a. EF. Rare. From the RBW Collection. Estimate $1000.
In this sale, CNG is honored to offer a selection of the RBW Collection, featuring Roman Republican and Republican era Provincial coinage …
Lot 328: GREAT BRITAIN. The Death of Caesar. Large Plaque. By Paul Vincze. Caesar on deathbed, surrounded by four mourners / Blank. As Made. From the RBW Collection. Estimate $500.
… as well as medals relating to ancient history, the Roman Republic, and the field of numismatics as a whole. For an in-depth bibliography of the collector and a personal note from Victor, please see the first lot of the sale.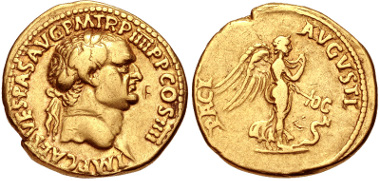 Lot 558: Vespasian. AD 69-79. Aureus. Lugdunum (Lyon) mint. Struck AD 72. RIC II 1180; Lyon 56; Calicó 656 (same dies). VF. Estimate $4000.
Additionally, this auction offers further selections from the BCD Collection, a group of rare Mauretanian bronzes, additional pieces from an Alexandrian collection formed in the 1930s, and an impressive array of Roman gold aurei.
Lot 595: ISLAMIC, Umayyad Caliphate. temp. 'Abd al-Malik ibn Marwan. AH 65-86 / AD 685-705. Dinar. Unnamed (Dimashq [Damascus]?) mint. Dated AH 81 (AD 700/1). AGC I 43; Album 125; Wilkes 159. Near EF, graffito on obverse. Estimate $600.
A run of Arab-Sasanian drachms and Islamic gold and silver coinage are also available.
To browse through the complete auction catalogue please click here.