[bsa_pro_ad_space id=4]
14-07-2015 – 01-01-1970
Electronic Auction 355
CNG's Electronic Auction 355 online
Classical Numismatic Group's Electronic Auction 355 will be closing on July 15, 2015, from 10 AM ET offering 851 lots.
Lot 633: Eugenius. AD 392-394. Siliqua. Treveri (Trier) mint. RIC IX 106d; RSC 14+a. Near EF. Rare. Ex 2010 Gussage All Saints Hoard. Estimate: $750.
Several notable groups are available in this sale, including the BCD Collection of Thessaly and the Peleponnesos, selections from the 2010 Gussage All Saints Hoard …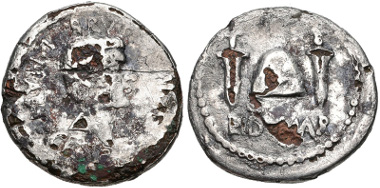 Lot 465: Brutus. Late summer-autumn 42 BC. Fourrée Denarius. Mint moving with Brutus in northern Greece. Cf. Crawford 508/3; cf. CRI 216; cf. Sydenham 1301; cf. RSC 15. Very rare. Estimate: $2000.
… and further coins from the Prue Morgan Fitts Collection of Byzantine as well as a number of stand-alone pieces, most notably a fourrée 'Eid Mar' denarius. However, the highlight of this auction is undoubtedly the impressive Hermanubis Collection of Roman Egypt.
Lot 398: Egypt, Alexandria. Commodus. AD 177-192. Tetradrachm. Dated RY 33 of Marcus Aurelius (AD 192). VF. Very rare. From the Hermanubis Collection. Estimate: $300.
The Hermanubis Collection was assembled with a focus on both quality and rarity. It is expected that this collection will help create a new generation of collectors for the specialized, but popular area of Alexandrian / Roman Egyptian coinage.
Lot 443. Egypt, Alexandria. Tranquillina. Augusta, AD 241-244. Potin Tetradrachm. Dated RY 7 of Gordian III (AD 243/4). Dattari (Savio) 4838; K&G 73.38; Emmett 3460.7 (R5). EF. Rare. From the Hermanubis Collection. Estimate $250.
In this sale a group of 72 Billon and Potin tetradrachms is offered from the reigns of Nero through Philip I. Further selections from the Hermanubis Collection will be offered in both future CNG electronic and printed catalogues.
To browse through the complete auction catalogue please click here.