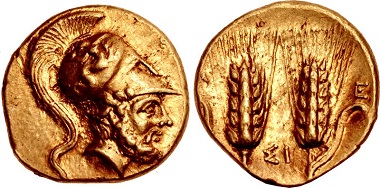 [bsa_pro_ad_space id=4]
23-03-2016 – 01-01-1970
Classical Numismatic Review Vol. XLI, No. 1 (Spring 2016)
Classical Numismatic Review Volume XLI is out
CNG has published the spring edition of the Classical Numismatic Review.
425490: LUCANIA, Metapontion. Circa 280-279 BC. Tetrobol – Third Stater. Johnston G5.1/5.3 (same obv./rev. die). Near EF. $6750.
Over 200 coins are offered, ranging from archaic Greek silver issues to modern British medals.
422115: L. Cassius Q.f. Longinus. 75 BC. Denarius. Rome mint. Crawford 386/1. EF. From the Volteia Collection. $1250.
Pieces from the Byron Schieber Collection and the Volteia Collection headline the list, offering an unparalleled number of Roman Republican issues, particularly silver denarii.
422767: Tiberius. AD 14-37. Aureus. Lugdunum (Lyon) mint. Group 2, AD 15-18. RIC I 27. Near EF. From the Byron Schieber Collection. $8750.
Greek and Roman Imperial coinage are also well represented in the ancient section.
426213: ANGLO-SAXON, Kings of Wessex. Æthelberth. 858-865/6. Penny. Caentwarabyrig (Canterbury) mint; Dearmod, moneyer. Struck circa 858-864. Naismith C181c-e; BMC 18-9. Good VF. $7850.
In the modern section, David Guest has done his best to provide a selection of interesting French and British medieval issues – the rare early English lead tokens are a particular favorite. Also in this edition, Bill Dalzell provides a brief overview of Anglo-Scandinavian coinage, along with a preview of relevant coins to appearing CNG 102.
Please click here to view the digital catalogue.