[bsa_pro_ad_space id=4]
08-09-2015 – 01-01-1970
Electronic Auction 359
CNG's Electronic Auction 359 online
Classical Numismatic Group's Electronic Auction 359 will be closing on September 9, 2015, at 10 AM ET offering 505 lots.
Lot 27: THESSALY, Lamia. Circa 400-350 BC. Hemidrachm. Georgiou, Mint 6; BCD Thessaly II 123. Good VF, lightly toned. From the BCD Collection. Estimate $200.
The Greek section of this auction once again presents additional coins from the BCD Collection …
Lot 129: KINGS of MAURETANIA. Ptolemy. AD 24-40. Denarius. Caesarea mint. Dated RY 8 (AD 31/2). MAA 284; Mazard 428; Müller, Afrique 183. VF, find patina, minor roughness. Estimate $500.
… as well as a selection of rare Mauretanian issues.
Lot 204: EGYPT, Alexandria. Lucius Verus. AD 161-169. Tetradrachm. Dated RY 5 (AD 164/5). K&G 39.109 corr.; Emmett 2362.5. VF, dark gray-brown surfaces. From the Hermanubis Collection. Estimate $250.
Superb Roman Egyptian tetradrachms from the Hermanubis Collection are again available in the Roman Provincial section.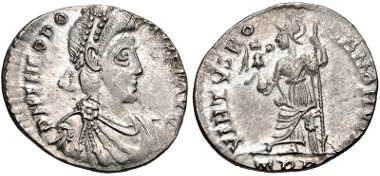 Lot 377: Theodosius I. AD 379-395. Siliqua. Treveri (Trier) mint. Struck AD 388-395. RIC IX 94a and 106a; RSC 57†a. Good VF. Ex 2010 Gussage All Saints Hoard. Estimate $200.
Finally, the Republican and Imperial sections are highlighted with a group of choice Roman Republican issues and additional siliquae from the Gussage All Saints Hoard.
To browse through the complete auction catalogue please click here.