[bsa_pro_ad_space id=4]
28-07-2015 – 01-01-1970
Electronic Auction 356
CNG's Electronic Auction 356 online
Classical Numismatic Group's Electronic Auction 356 will be closing on July 29, 2015, at 10 AM ET offering 760 lots.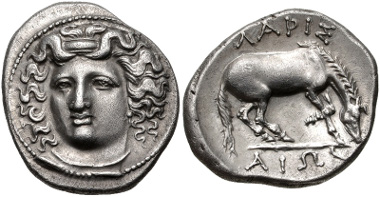 Lot 62: THESSALY, Larissa. Circa 356-342 BC. Drachm. BCD Thessaly II 325; Good VF. From the BCD Collection. Estimate: $300.
Returning once more in this auction are selections from the BCD Collection of Thessaly and the Peleponnesos …
Lot 682: ITALY, Milano (Duchi). Filippo III di Spagna. 1598-1621. Denaro da 100 Soldi. Dated 1605. Crippa 10/B. VF, toned. Ex Archer M. Huntington Collection. Estimate: $300.
… as well as select Italian issues from the Archer M. Huntington Collection.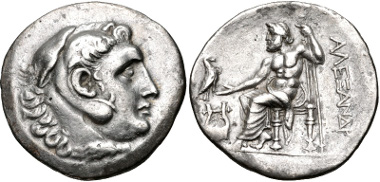 Lot 122: TROAS, Assos. Circa 210-200 BC. Tetradrachm. Price 1844 (Kolophon; same obv. die as illustration). Good VF, lightly toned. Rare. From the collection of Dr. Will Gordon. Estimate: $300.
Also available are coins from the Dr. Will Gordon collection of Alexander tetradrachms…
Lot 574: Probus. AD 276-282. Antoninianus. Cyzicus mint. 2nd emission, AD 276-277. RIC V 904; Pink VI/1, p. 31. Good VF, glossy brown surfaces. Very interesting shield design. Estimate: $200.
… and a varied offering of Probus antoniniani.
To browse through the complete auction catalogue please click here.