[bsa_pro_ad_space id=4]
23-09-2014 – 01-01-1970
Electronic Auction 335
CNG's Electronic Auction 335 online
Classical Numismatic Group's Electronic Auction 335 offers 926 lots closing 24 September from 10 AM ET.
58: KINGS of BOSPOROS. Kotys III, with Severus Alexander. Stater (18mm, 7.43 g, 12h). Dated year 525 of the Bosporan Era (AD 228/9). MacDonald 574/1. VF, a few minor scratches. Estimate: $200,00.
This premier electronic auction features a number of important collections, beginning with a European collection of coinage of the Bosporos.
224: JUDAEA, Hasmoneans. John Hyrkanos I (Yehohanan). Prutah (14mm, 1.98 g, 12h). Jerusalem mint. Meshorer Group A; Hendin 1132; HGC 10, 625. VF, earthen black patina. Estimate: $100,00.
Following that are selections from the Greek and Judaean collections of Patrick H. C. Tan, featuring his specialized collection of Hasmonean bronzes as well as numerous plate coins from Hendin's Guide to Biblical Coins.
464: Vespasian. Sestertius (33mm, 25.15 g, 5h). Rome mint. Struck AD 71. RIC II 243. VF, dark green patina, very minor roughness. Estimate: $1,000,00.
The Roman section offers a number of sestertii from the JDW Collection for collectors of bronze, as well as an array of choice denarii and antoniani for silver collectors.
none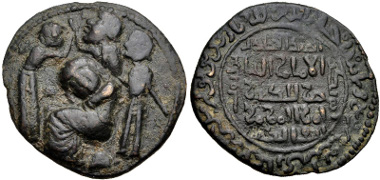 700: ISLAMIC, Anatolia & al-Jazira (Post-Seljuk). Artuqids (Mardin). Husam al-Din Yuluq Arslan. Dirhem (31mm, 13.86 g, 9h). Unnamed (Mardin?) mint. Dated AH 589 (Struck after 4 March AD 1193). Whelan Type III, p. 97; S&S Type 35.2; Album 1829.3. Good VF, earthen dark brown patina. Estimate: $300,00.
Additional selections of Islamic pictorial bronzes from the Warden Family Collection and Spanish-related coinage from the Archer M. Huntington Collection are presented in the later sections of the sale. Finally, the auction concludes with a group of large lots, among which is a complete set of the 12 Caesars in silver.
To browse through the complete auction catalogue click here.