[bsa_pro_ad_space id=4]
10-11-2015 – 01-01-1970
Electronic Auction 363
CNG's Electronic Auction 363 online
Classical Numismatic Group's Electronic Auction 363 will be closing on November 11, 2015, at 10 AM ET offering 578 lots.
Lot 33: KINGS of THRACE, Macedonian. Lysimachos. 305-281 BC. Tetradrachm. Lampsakos mint. Struck 297/6-282/1 BC. Thompson 61 var. (monogram); Müller 392; SNG France 2545. Near EF. From the collection of Dr. Will Gordon. Estimate $1500.
This auction features further selections of Alexander the Great related tetradrachms from the Dr. Will Gordon Collection …
Lot 77: THESSALY, Larissa. Circa 405/0-370 BC. Drachm. L-S Group 7, Head Type 30 (O136/R1); cf. BCD Thessaly II 270 (same obv. die). Good VF. From the BCD Collection. Estimate $300.
… as well as additional Greek and Roman Provincial issues from the BCD Collection.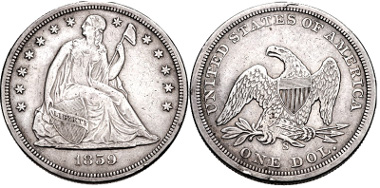 Lot 428: 1859 S Liberty Seated Dollar. Near VF. Low mintage of only 20,000 pieces. Estimate $500.
Additionally, the second half of this sale is unusually impressive, offering an exceptional array of Spanish and Spanish Colonial coins, United States coins, tokens, and medals, World medals …
Lot 513: TRADE TOKENS, Middlesex. London Corresponding Society. CU Half Penny. Dated 1796. D&H 290. AU, mostly brown with some red. Estimate $300.
… and British Conder tokens.
To browse through the complete auction catalogue please click here.