[bsa_pro_ad_space id=4]
02-06-2015 – 01-01-1970
Electronic Auction 352
CNG's Electronic Auction 352 online
Classical Numismatic Group's Electronic Auction 352 will be closing on June 3, 2015, from 10 AM ET offering 715 lots.
Lot 665: ITALY, Venezia (Venice). 17th century. PB Theriac capsule lid. Produced by Venice's Due Mori pharmacy. Blank. U. Klein, "Theriak-Kapseln und kein Ende," Festschrift Ilisch p. 288, 1. VF, brown patina. Rare. Estimate $150.
This sale offers a variety of coins from all eras as well as some other extraordinary objects …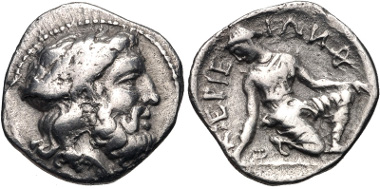 Lot 81: THESSALY, Kierion. Circa 350-325 BC. Trihemiobol. BCD Thessaly II 104.1 (same dies). VF. From the BCD Collection. Estimate $100.
… including additional selections from the BCD Collection …
Lot 365: SYRIA, Coele-Syria. Laodicea ad Libanum. Caracalla. AD 198-217. SNG Copenhagen 445. VF, dark green patina. From the Dr. George Spradling Collection. Estimate $150.
… Roman Provincial and Imperial coinage from the Spradling Collection …
Lot 601: Michael IV the Paphlagonian. 1034-1041. Constantinople mint. DOC 1d; SB 1824. EF. Estimate $500.
… and an extensive selection of late Byzantine issues. As usual, the sale is rounded out by a number of multiple lots.
To browse through the complete auction catalogue click here.