[bsa_pro_ad_space id=4]
12-05-2015 – 01-01-1970
Auction 99 Internet and Mail Bid Sale
Very rare Starr Group IV Silver Didrachm of Athens at CNG
Classical Numismatic Group of Lancaster, Pennsylvania and London, England presents Auction 99, an Internet and Mail Bid Sale closing electronically on Wednesday, May 13, 2015, from 10 AM ET (U.S.). CNG 99 features 1318 lots of ancient Greek, Celtic, Oriental Greek, Central Asian, Roman Provincial, Roman Republican, and Roman Imperial coinage. Additionally, there are featured selections of Byzantine, Early Medieval, Islamic, World Coinage & Medals, and British Coinage & Medals. The pre-sale estimate total for CNG 99 is $1,805,000.
Lot 121: Attica, Athens. Circa 475-465 BC. Didrachm. Starr Group IV, 142 var. (O122/R); HGC 4, 1617 corr.; SNG Copenhagen 30; Boston MFA 1602; Hunterian 10; Rhousopoulos 1979. Good VF. Very rare. Estimate: $15,000.
The Greek section of the sale features coins from the collection of Alexandre Carathéodory Pasha (1833-1906), a very rare Starr Group IV silver didrachm of Athens, a prototype gold stater of Kroisos, an offering of previously unknown silver staters of Phaselis, and an extremely rare 'Horned Horse' type silver tetradrachm of Antiochos I from the Aï Khanoum mint.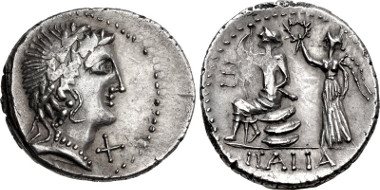 Lot 545: The Social War. Coinage of the Marsic Confederation. 90-88 BC. Denarius. Series 7b. Corfinium mint. Struck 89 BC. Campana, Monetazione, 107j (D72/R94); Sydenham 624; BMCRR Social War 15. EF, Rare. Ex Hess-Leu 49. Estimate: $7500.
Other highlights include a selection of rare Arabian coins, a very rare Antioch silver tetradrachm of Tiberius and Divus Augustus, an important offering of tetradrachms of Aelia Capitolina, and an exceptional Social War silver denarius from the Marsic Confederation. The Roman section of the sale features a diverse selection of Roman Imperial gold coinage, which includes the third known Severus II gold aureus from the Alexandria mint.
Lot 905: Axum. Endubis. Late 3rd century. Hahn, Aksumite 1; Munro-Hay type 1; BMC Axum 1-3. Good VF. From the Joan Wilde Collection. Ex Classical Numismatic Group 41. Estimate: $750.
Byzantine coins from the collection of Prue Morgan Fitts, author of "The Beginner's Guide to Identifying Byzantine Coins", are featured in CNG 99, as well as Axumite coins from the Joan Wilde collection. Joan Wilde died last November, and was the wife of the late Adna G. Wilde, who served as the American Numismatic Association's Executive Director (1968-72), President (1981-83), Treasurer (1983-2008), and Parliamentarian (1994-2008). Joan usually accompanied her husband to ANA conventions and other coin shows, and she became interested in the coinage of Ethiopia's ancient Axumite Empire.
Lot 1138: United States, Federal issues. Proof Silver Dollar. Philadelphia mint. Dies by Christian Gobrecht. Dated 1836. Korein p. 89, die alignment I; Judd 60; Breen 5412. Estimate: $10,000.
World coinage in CNG 99 is highlighted by French Feudal issues from the Michael Joffre collection. One of four known Anglo-Saxon gold thrymsas of the 'Clasped Hands' type is featured in the British coinage section, and an important 1836 Gobrecht Proof silver dollar from the Dr. Julius Korein collection is offered for the U.S. coin specialist. The Korein Gobrecht dollar is sold on behalf of the American Numismatic Society to benefit their North American Chair.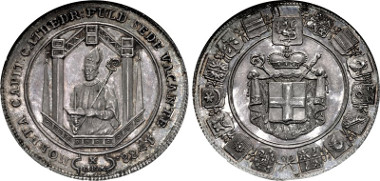 Lot 1008: Germany, Fulda (Bistum). Sede Vacante. 1788. Taler. Dated 1788. Eichelmann 165; Zepernick 86; Davenport 2263. Toned. Estimate: $500.
Another highlight of CNG 99 is a Northern California collection of world coins and medals. This collection features a diverse selection of Latin American coinage and proclamation medals, Caribbean cut countermarked issues, German Sede Vacante medals, and Philippine countermarked issues. The Latin American coinage is especially strong in Mexican coinage from colonial to United States issues.
Printed catalogs for CNG 99 are now available. To order a catalog, please visit the website of CNG. Catalogs are $50 to North American addresses, and $75 to the rest of the world. Payment may be made by U.S. $ check or Visa/MasterCard.
Prospective bidders may also view the virtual catalog.