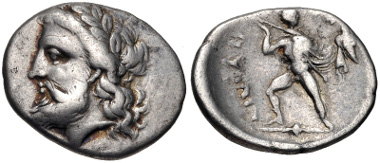 [bsa_pro_ad_space id=4]
18-11-2014 – 01-01-1970
Electronic Auction 339
CNG's Electronic Auction 339 online
Classical Numismatic Group's Electronic Auction 339 will be closing on 19 November from 10 AM ET.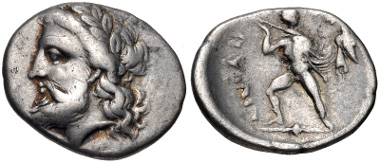 Lot 55: THESSALY, Ainianes. Circa 350s-340s BC. Hemidrachm (16mm, 2.75 g, 6h). Hypata mint. Liampi, Beitrag Group I; BCD Thessaly II 27 var. From the BCD Collection. VF. Estimate: $150.
This sale opens with a small run of Tarentine nomoi from Group SGF and additional selections from the BCD Collection of the coinage of Thessaly.
Lot 335: Tiberius, with Divus Augustus. AD 14-37. Aureus (19mm, 7.61 g, 7h). Lugdunum (Lyon) mint. Struck AD 14. RIC I 24; Lyon 118; Calicó 311. From Group SGF. Near VF, a few marks and scratches. Estimate $3000.
These Greek offerings are followed by a number of Central Asian, Roman Provincial, and Roman Imperial issues. Two important Chinese collections highlight the World section: the J. P. Righetti Collection, featuring numerous examples of cast cash and multiples, and the H.L.T. Collection, featuring struck issues of the 19th and 20th centuries.
Lot 475: CHINA, Eastern Zhou dynasty – Warring States Period. State of Zhào. City of Bairen. Circa 300-250 BC. Æ Straight Knife (146x17mm, 10.28 g). BN Chinoises I 94-7; Hartill 4.60. From the J.P. Righetti Collection. VF, thickly encrusted green patina. Estimate: $100.
Together, these two collections offer coins from nearly every period of Chinese history, from the spade and knife coinage of the Warring States period to the myriad struck copper issues of the Republic.
Lot 524: CHINA, Northern Sòng dynasty. Zhézong. AD 1085-1100. FE 5 Wén (34mm, 13.03 g). Cast AD 1094-1097. Yan 455; Hartill 16.320. From the J.P. Righetti Collection. Good VF, well-preserved with minimal rust. An exceptional iron coin. Estimate: $100.
Particularly well represented are scarce issues from the periods of turmoil or interdynastic strife: the Three Kingdoms and the North and South dynasties following the fall of the Hàn, the Five Dynasties and Ten Kingdoms following the collapse of the Táng, the Tartar dynasties of the 11th-13th centuries, and the issues of large multiple cash cast in the wake of the Tàipíng Rebellion.
To browse through the complete auction catalogue click here.