[bsa_pro_ad_space id=4]
04-11-2014 – 01-01-1970
Electronic Auction 338
CNG's Electronic Auction 338 is online
Classical Numismatic Group's Electronic Auction 338 will be closing on 5 November from 10 AM ET.
Lot 61: THESSALY, Thessalian League. Circa 170 BC. Chalkous (13mm, 3.12 g). BCD Thessaly II 24.2. VF, dark green-brown patina. From the BCD Collection. Estimate: $100.
This sale presents additional selections from the BCD Collection of the coinage of Thessaly, with further groups to be offered in each electronic auction over the next year.
Lot 308: Andronicus II Palaeologus, with Michael IX. 1282-1328. Assarion (20mm, 1.88 g, 12h). Constantinople mint. Struck 1294-1320. DOC 633-7. Good VF, brown-green patina. Estimate: $150.
The current auction also features a group of late Byzantine bronzes …
Lot 399: HANOVER. Victoria. 1837-1901. Sovereign (22mm, 7.97 g, 12h). Old head coinage. London mint. 1901. Friedberg 396. Choice EF. AGW: 0.2355 oz. From Group SGF. Estimate: $400.
… a selection of modern World and British gold issues …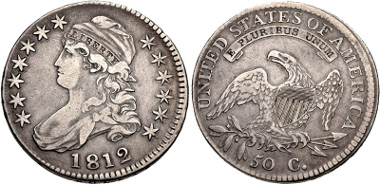 Lot 374: UNITED STATES. Capped Bust Half Dollar. 1812. Overton 105. VF, toned, shallow scratch on cheek. Estimate: $100.
… and an attractive run of Capped Bust Half Dollar die varieties.
To browse through the complete auction catalogue click here.