[bsa_pro_ad_space id=4]
24-02-2015 – 01-01-1970
Electronic Auction 345
CNG's Electronic Auction 345 online
Classical Numismatic Group's Electronic Auction 345 will be closing on 25 February 2015 from 10 AM ET offering 742 lots.
Lot 25: CRETE, Eleuthernai. Circa 320-270 BC. Stater (24mm, 11.01 g, 12h). Le Rider, Crétoises pl. XXXIII, 9 (same dies); Traeger 49. VF. Extremely rare. From the Colin E. Pitchfork Collection. Estimate $1000.
The sale opens with a specialized group of nearly one-hundred Cretan coins from the Colin E. Pitchfork Collection.
Lot 145: ISLANDS off THRACE, Thasos. Circa 480-463 BC. Stater (20.5mm, 8.54 g). Le Rider, Thasiennes 5; HGC 6, 331. Good VF. From the Patrick H. James Collection. Estimate $500.
Further selections from both the BCD Collection and the Patrick James Collection complete the Greek section, with additional pieces from the latter available in the World and British sections.
Lot 401: THRACE, Philippopolis. Elagabalus. AD 218-222. Medallion (36mm, 21.56 g, 1h). Varbanov 1665. VF. Rare. From the Dr. George Spradling Collection. Estimate $150.
An attractive group of coins of the United States are also featured from the Patrick James collection. Collectors of Roman Provincial issues will enjoy browsing the pieces from the Dr. George Spradling Collection, which is very strong on the Roman-era coinage of Northern Greece.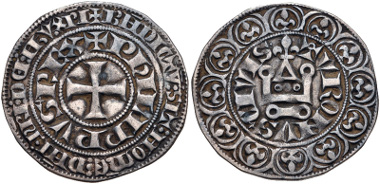 Lot 610: FRANCE, Royal. Philippe IV le Bel (the Fair). 1285–1314. Gros tournois à l'O long et au lis (26mm, 4.10 g, 4h). Struck circa 1298. Van Hengel f 4; Duplessy 217; Ciani 200; Roberts 2461. VF. From the Michael Joffre Collection. Estimate $100.
The sale is rounded out by Roman Imperial and French issues from the Michael Joffre Collection.
To browse through the complete auction catalogue click here.