[bsa_pro_ad_space id=4]
19-08-2014 – 01-01-1970
Electronic Auction 333
CNG's Electronic Auction 333 online
Classical Numismatic Group's Electronic Auction 333 offers 498 lots closing August 20th from 10 AM ET.
119: JUDAEA, Herodians. Herod I (the Great). Eight Prutot (23mm, 7.36 g, 12h). Mint in Samaria (Sebaste?). Dated RY 3 (38/7 BCE). Meshorer 44; Hendin 1169; HGC 10, 651; DCA 804. VF, earthen green patina. Estimate $200.
The auction opens with a selection of Greek coins, including a varied group of issues from Judaea, Samaria, and Philistia …
12: CARTHAGE, Second Punic War. Circa 220-215 BC. Trishekel (30mm, 19.06 g, 12h). MAA 84b; Müller, Afrique 154; SNG Copenhagen 341-3. VF, grayish-brown patina. Estimate $200.
… as well as a small assortment of scarce North African bronzes.
304: Severus Alexander. Sestertius (28mm, 22.59 g, 12h). Rome mint. 11th emission, AD 230. RIC IV 563; BMCRE 612-4; Banti 28. VF, brown patina. Good VF. Estimate $150.
The Roman section offers a run of attractive sestertii of the third century.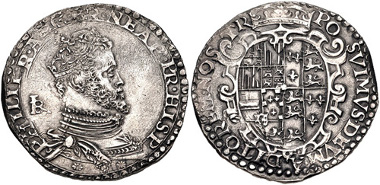 462: ITALY, Napoli (Regno). Filippo II di Spagna. Mezzo Ducato (33mm, 14.54 g, 1h). Napoli (Naples) mint; Giovan Battista Ravaschieri, mintmaster. Struck 1554-1556. Pannuti-Riccio 3; MIR 159. VF, light roughness. Scarce. Estimate $500.
Finally, a number of Neapolitan mezzi ducati are available in the world section. As always, the sale concludes with an offering of large lots.
To browse through the complete auction catalogue click here.