[bsa_pro_ad_space id=4]
08-07-2014 – 01-01-1970
Electronic Auction 330
CNG's Electronic Auction 330 online
CNG's Electronic Auction 330 offers 572 lots and will be closing on July 9, 2014. The Greek section of this sale
82: KINGS of LYDIA. temp. Ardys – Alyattes. Circa 630s-564/53 BC. EL Hekte – Sixth Stater. Sardes mint. Weidauer Group XVII, 102 (same die and punches). VF, obverse die a bit worn, a few light scratches. Estimate: $1,000.
… features a short run of early electrum and silver issues of the kings of Lydia, followed by a small group of scarce North African bronzes.
230: Anonymous. Circa 260 BC. Litra. Rome mint. Crawford 17/1g. Good Fine. Estimate: $100.
Meanwhile, the Roman Republican section offers an array of coins from the RBW and Huntington Collections.
463: STUART. James I. 1603-1625. Unite. London mint; im: lis. Struck 1604-1605. From the D.F. Alder Collection. North 2083. Good Fine. Estimate $1500.
An impressive selection of gold and silver issues from the D.F. Alder Collection are available in the World and British sections.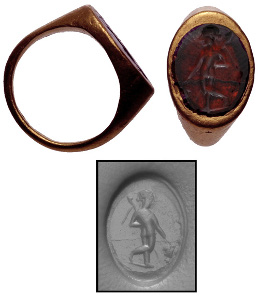 523: Gold ring with carnelian intaglio. Roman, 2nd-3rd century AD. Solid gold ring sized for a child, with flat bezel inset with carnelian intaglio of a helmeted Athena holding spear. Ring size: British C 1/2, US 1 3/4 (approx. 13mm internal diameter); weight: 5.10g. Ashmolean Gems II, 2.24. Stone cracked, otherwise an attractive piece. Estimate: $300.
Finally, the sale concludes with an assortment of antiquities and a number of group lots.
You can browse through the auction catalogue online.