[bsa_pro_ad_space id=4]
02-12-2014 – 01-01-1970
Electronic Auction 340
CNG's Electronic Auction 340 online
Classical Numismatic Group's Electronic Auction 340 will be closing on 3 December 2014 from 10 AM ET offering 622 lots.
Lot 1: IBERIA, Bilbilis. Late 2nd-early 1st centuries BC. As (27mm, 12.48 g, 5h). ACIP 1567; SNG BM Spain 858. VF, dark green patina. Ex Archer M. Huntington Collection. Estimate $100.
This sale features coins from a number of important collections, beginning in the Greek section, where are additional selections of Iberian coinage from the Huntington Collection and Thessalian from the BCD Collection.
Lot 226: KINGS of PARTHIA. Mithradates II. 121-91 BC. Drachm (22mm, 4.14 g, 12h). Rhagai mint. Struck circa 96/5-91 BC. Sellwood 28.6; cf. Sunrise 297-301; Shore -. VF, lightly toned. From the David Sellwood Collection. Estimate $100.
Parthian drachms from the Sellwood Collection highlight the Oriental Greek, while further Huntington pieces are available in the Roman Provincial section …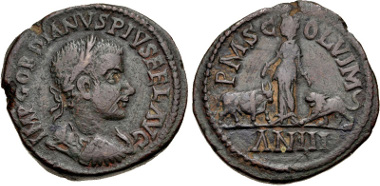 Lot 242: MOESIA SUPERIOR, Viminacium. Gordian III. AD 238-244. (32mm, 18.72 g, 2h). Dated CY 3 (AD 241/2). H&J, Viminacium, 8; AMNG I 81; Varbanov 115. VF, brown patina, minor roughness. Estimate $100.
… alongside a selection of attractive Moesian bronzes.
Lot 436: Phocas. 602-610. 40 Nummi – Follis (29mm, 10.85 g, 6h). Nicomedia mint. Dated RY 5 (606/7). DOC 55-6; MIBE 69a; SB 658. VF, green and brown patina. Overstruck on a follis of Maurice Tiberius. From the AL Collection. Estimate $100.
The sale is rounded out by an array of Byzantine issues from the AL Collection and a group of affordable pennies of Edward I and II.
To browse through the complete auction catalogue click here.