[bsa_pro_ad_space id=4]
10-06-2014 – 01-01-1970
Electronic Auction 328
CNG's Electronic Auction 328 with fair offers from Antiquity to Modern Times
Classical Numismatic Groups Electronic Auction 327 will offer 774 lots closing on June 11, 2014.
27: LUCANIA, Metapontion. Circa 330-290 BC. Nomos. HN Italy 1589. Good VF. Estimate: $500.
This sale features final selections from the Dr. Kelly J. Krizan and Demetrios Armounta Collections, …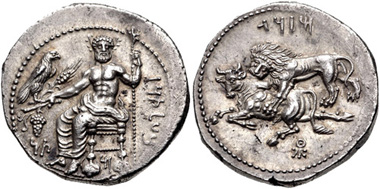 212: CILICIA, Tarsos. Mazaios. Satrap of Cilicia, 361/0-334 BC. Stater. SNG Levante 106. EF. Estimate: $750.
… offering coins from the Greek to Roman periods.
720: ITALY, Napoli (Regno). Filippo II di Spagna. Mezzo Ducato, Napoli (Naples) mint, 1554-1556. Giovan Battista Ravaschieri, mintmaster. Pannuti-Riccio 5 (same). Good VF. Estimate: $200.
The World section offers an impressive run of Neapolitan mezzi ducati.
747: GREEK. Asia Minor. Lot of four (4) AR Cistophoric Tetradrachms of Ephesos. All coins: Cista mystica with serpent; all within ivy wreath / Two serpents entwined around bow and bowcase. Includes: Year 2 (133/2 BC). Kleiner 2 // Year 3 (132/1 BC). Kleiner 4 // Year 30 (105/4 BC). Kleiner 34 // Year 35 (99/8 BC). Kleiner 39. Fine to VF. LOT SOLD AS IS, NO RETURNS. Four (4) coins in lot. Estimate: $500.
As usual, the sale concludes with an array of 32 large lots.
To browse through the complete auction catalogue or to bid online please go to the CNG website.