[bsa_pro_ad_space id=4]
04-09-2018 – 01-01-1970
Electronic Auction 428
Classical Numismatic Group Electronic Auction 428
CNG's Electronic Auction 428 features 683 lots closing on 5 September 2018, beginning at 10 AM ET.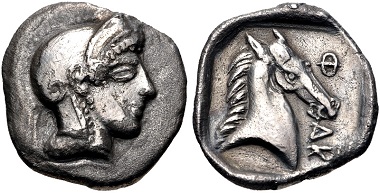 Lot 122: Thessaly. Pharsalos. Hemidrachm, Mid-late 5th century BC. From the BCD Collection. VF. Estimate: $75.
Collectors can again bid on selections from the BCD Collection of Thessalian …
Lot 455: Heraclius, 610-641. Semissis, 610-613, Constantinople mint, 10th officina. From the Iconodule Collection. EF, minor obverse die rust, light deposits on the reverse. Estimate: $200.
… and the Iconodule Collection of later Byzantine.
Lot 334: Mark Antony and Cleopatra. Denarius, autumn 34 BC. Fine, toned, a couple of bankers' marks. Estimate: $2,000.
A handful of interesting Roman denarii are available from both the Republican …
Lot 370: Sabina. Augusta, 128-136/7. Denarius, circa 128-134, Rome mint. In NGC encapsulation, 44166718-001, graded AU*, Strike: 5/5, Surface: 5/5, Fine Style. Estimate: $1,000.
… and Imperial periods. Finally, nearly 100 group lots round out the sale.
To view the sale online, click here.