[bsa_pro_ad_space id=4]
15-05-2018 – 01-01-1970
Spring Auction 108
CNG's Auction 108 online
Classical Numismatic Group presents CNG Auction 108, an Internet and Mail Bid Sale closing electronically on Wednesday, 16 May 2018, from 10 AM ET (U.S.). This sale offers 1243 lots with a presale estimate of $2.34 million.
Lot 158: Cimmerian Bosporus. Pantikapaion. Stater, circa 340-325 BC. Choice EF, lustrous. Estimate: $30,000.
CNG's annual spring sale features Greek, Celtic, Oriental Greek, Central Asian, Roman Provincial, Roman Republican, and Roman Imperial coinage. Additionally, there are featured selections of Byzantine, Early Medieval, Islamic, World, Siege Issues, and British. Highlights include:
Ancient and World Coinage from the D. C. Kopen Collection
Greek Coins from the José Miguel Márquez del Prado Collection
Coins of Thrace and Macedon from the Belgica Collection (Part II)
Alexander Type Coins from the Colin E. Pitchfork Collection
Impressive Zeus Ammon Facing Bust Electrum Stater of Kyzikos
Lot 194: Ionia. Phokaia. Electron stater, circa 625/0-522 BC. Only the third known of this type. Estimate: $30,000.
Third Known Seal and Octopus Electrum Stater of Phokaia
The MNL Collection of Seleukid Coins (Part I)
Baktrian and Indian Coins from the David Nelson Collection
Roman Coins from the Fendi Collection
Lot 523: Roman Republic. C. Vibius Varus. Aureus, 42 BC, Rome. Good VF. From the Jonathan P. Rosen Collection. Estimate: $10,000.
Roman Republican and Imperatorial Coins from the Jonathan P. Rosen Collection
Licinius I Facing Bust Aureus – Among the Finest Known
Late Roman and Byzantine Coins from the D. Massey Collection
Bulgarian Coins and Seals from the Iconodule Collection
Lot 924: Germany, Braunschweig-Lüneburg-Celle (Herzogtum). Christian Ludwig, 1648-1665. 4 Taler, 1663, Clausthal mint. In NGC encapsulation, 4212835-001, graded MS 63. Toned. Estimate: $5,000.
Multiple Thalers and Dutch Coinage from the Jonathan K. Kern Collection
The Jonathan K. Kern Collection of Siege Coinage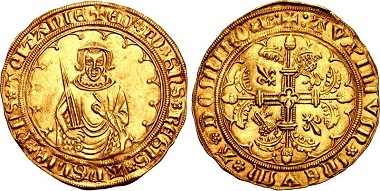 Lot 1143: Plantagenet (Anglo-Gallic). Edward the Black Prince as Prince of Aquitaine, 1362-1372. Hardi d'Or, circa 1368-1371/2, Bordeaux mint. Superb EF. Estimated: $15,000.
Superb Edward the Black Prince Hardi d'Or
Selections from the Anthony Halse Collection of British Pattern Coins
Catalogs for CNG 108 will be mailed on 13 April to CNG's active mailing list. Bidding is currently open on the site.
You can browse through the digital virtual catalogue.
And of course the online catalogue is also available for live bidding.