[bsa_pro_ad_space id=4]
28-01-2014 – 01-01-1970
Electronic Auction 319
CNG auction offers Mark Blackburn's childhood collection
CNG's Electronic Auction 319 offers 764 lots including the childhood collection of the late Dr. Mark Blackburn, Keeper of Coins at the Fitzwilliam Museum. Proceeds from this portion of the sale will benefit the Mark Blackburn Memorial Fund. Auction 319 also offers a broad selection of silver antoniniani and denarii from the brief two-year reign of Macrinus.
Some highlights of this auction are:
93: ISLANDS off CARIA, Rhodos. Rhodes. Circa 170-150 BC. AR Drachm. Jenkins, Rhodian, Group B, 32. Good VF. Estimate: $150.
226: PHRYGIA, Otrus. Plautilla. Augusta, AD 202-205. Von Aulock, Phrygiens 810. VF. Estimate: $200.
378: Nero. AD 54-68. Aureus, Rome. Struck AD 58-59. RIC I 16. VF. Estimate: $3000.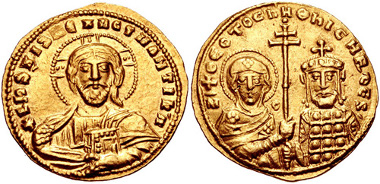 641: Nicephorus II Phocas. 963-969. Solidus, Constantinople. Struck 965-967. DOC 4.7. EF. Estimate: $500.
You can find the auction on the CNG website.
If you want to know more about Mark Blackburn and the institution, where he worked, click here.