[bsa_pro_ad_space id=4]
02-05-2018 – 01-01-1970
Electronic Auction 420
Classical Numismatic Group Electronic Auction 420
CNG's Electronic Auction 420 features 696 lots closing on 9 May 2018, beginning at 10 AM ET.
Lot 110: Kings of Macedon. temp. Antigonos I Monophthalmos – Lysimachos. Tetradrachm, circa 310-290 BC, uncertain mint in western Asia Minor. From the Colin E. Pitchfork Collection. Apparently unique. VF. Estimate: $200.
This sale presents another strong offering of Greek coinage, including further selections of Alexander-type issues from the Colin Pitchfork Collection, …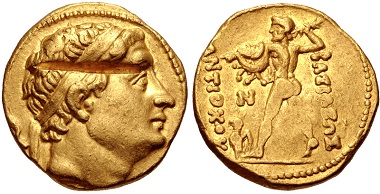 Lot 283: Baktria, Greco-Baktrian Kingdom. Diodotos I Soter, circa 255-235 BC. In the name of Antiochos II of Syria. Stater. Mint A (near Ai Khanoum). Good VF, typical test cut on head. From the David Nelson Collection. Estimate: $1,000.
… additional bronze and silver issues from the Belgica Collection, and another group of Thessalian coinage from BCD. Later on, Oriental Greek and Central Asian collectors can bid on a number of coins from the David Nelson Collection, …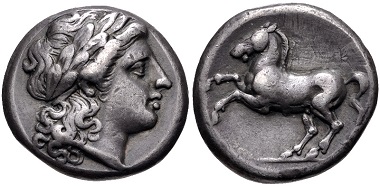 Lot 370: Roman Republic. Anonymous. Didrachm, circa 235 BC, Rome mint. VF. From the Andrew McCabe Collection. Estimate: $1,000.
… and Roman Republican enthusiasts have another chance to bid on rare coins from the impressive Andrew McCabe Collection.
Lot 557: Plantagenet. Henry II., 1154-1189. Penny. Short Cross type, class Ib1. Wilton mint. Struck in the name of Henry II, 1180-circa 1182. VF, toned, obverse double struck, flan bent. Ex 1970 Gisors (Eure) Hoard. Estimate: $100.
The sale concludes with another offering of short cross pennies from the 1970 Gisors (Eure) Hoard, followed by the usual array of group lots.
To view the sale online, click here.