[bsa_pro_ad_space id=4]
29-05-2018 – 01-01-1970
Electronic Auction 421
Classical Numismatic Group Electronic Auction 421
CNG's Electronic Auction 421 features 828 lots and closing on 30 May 2018, beginning at 10 AM ET. This auction features Alexander-type coins from both the Colin Pitchfork and José Miguel Márquez del Prado collections, as well as Seleukid issues from the MNL Collection.
Lot 105: Thessaly, Thessalian League. Stater, mid-late 2nd century. From the BCD Collection. VF, toned, some scratches and light porosity. Estimate: $100.
Thessalian pieces from the BCD Collection appear in both the Greek and Roman Provincial sections.
Lot 377: Southern Arabia. Himyar. 'Amdan Bayan Yahaqbid. Gold Unit, circa 100-120. Scyphate type with name 'Amdan Bayan. Raydan mint. Good VF, holed and plugged. Extremely rare in gold. Estimate: $2000.
The Greek section also includes an exceptional offering of Arabian coinage of Himyar, including two rare gold issues.
Lot 493: Sex. Pompeius Fostlus. Denarius, 137 BC. From the Jonathan P. Rosen Collection. VF, iridescent tone. Estimate: $150.
For Roman Republican collectors, we are happy to present an exquisite array of mostly silver issues from the Jonathan P. Rosen Collection.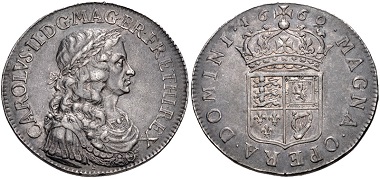 Lot 775: Great Britain. Charles II., 1660-1685. Medal, Pattern Broad by T. Simon. Dated 1660. From the Anthony Halse Collection of British Pattern Coins. VF, toned, some light marks. Estimate: $500.
Some more modern coins in the sale include additional world and siege coinage from the Jonathan K. Kern Collection, as well as further British patterns from the Anthony Halse Collection. The sale is rounded out with a small selection of group lots.
To view the sale online, click here.