[bsa_pro_ad_space id=4]
24-04-2018 – 01-01-1970
Electronic Auction 419
CNG's Electronic Auction 419 online
CNG's Electronic Auction 419 features 710 lots and closes on 25 April 2018, beginning at 10 AM ET.
Lot 224: Southern Arabia. Himyar. Uncertain king(s), circa 110 BC–mid 1st century BC. Silver Fraction. Raydan mint. VF, toned. Extremely rare. Estimate: $100.
The sale opens with a Greek section featuring coins from the D.C. Kopen Collection, Alexandrine issues from the Pitchfork Collection, Thessalian from BCD, and South Arabian from the Simmons Collection.
Lot 375: Trajan. AD 98-117. As, circa AD 112/3-114, Rome. VF. From the D. C. Kopen Collection. Estimate: $200.
The Roman section also includes coins from the Kopen Collection, as well as a run of siliquae from the 1887 East Harptree Hoard.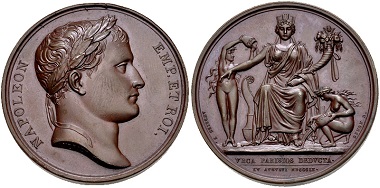 Lot 512: France, Premier Empire. Napoléon I., 1804-1814. Medal on the Opening of the Canal de l'Ourcq by B. Andrieu. Dated 1809. EF. Estimate: $150.
A selection of Napoleonic medals and a group of sceattas from the Ripon Hoard of 1695 headline the World Medals and British sections.
Lot 587: Greek, Bruttium. Kroton. "AR Nomos", circa 425-350 BC. British Museum electrotype (marked [MB] on reverse). From collection of electrotypes and forgeries of Jonathan K. Kern Estimate: $150.
The sale closes with the exceptional collection of electrotypes and forgeries of Jonathan K. Kern, followed by the usual array of large lots.
To view the sale online, click here.