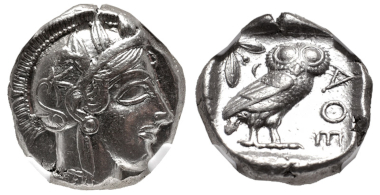 [bsa_pro_ad_space id=4]
17-10-2018 – 01-01-1970
Electronic Auction 431
Classical Numismatic Group Electronic Auction 431
CNG's Electronic Auction 431 features 711 lots and closing on Wednesday, 24 October 2018, beginning at 10 AM ET.
Lot 157: Attica, Athens. Tetradrachm, circa 454-404 BC. In NGC encapsulation, 4372822-001, graded Ch XF, Strike: 5/5, Surface: 4/5, full crest. Estimate: $1,000.
This sale again offers an impressive selection of high grade Alexander-type drachms and Athenian tetradrachms for the collector or dealer, …
Lot 126: Thessaly, Trikka. Hemidrachm, circa 440-400 BC. Ex BCD Collection. VF. Estimate: $100.
… as well as further Thessalian issues from the BCD Collection.
Lot 335: Divus Augustus. Died AD 14. Sestertius, struck under Tiberius, AD 35-36, Rome mint. Ex Egger XXXIX (15 January 1912), lot 660. VF. Estimate: $1,500.
The Roman Imperial section presents an impressive group of early Imperial bronzes, many pedigreed to the early twentieth century, …
Lot 547: Norman. William I "the Conqueror". 1066-1087. Penny. Paxs type (BMC viii). Winchester mint; Leofweald, moneyer. Struck circa 1083-1086. Good VF. Estimate: $500.
… while the British section rounds out the sale with an array of Anglo-Saxon pennies and Maundy oddments.
To view the sale online, click here.