[bsa_pro_ad_space id=4]
27-02-2018 – 01-01-1970
Electronic Auction 415
Classical Numismatic Group Electronic Auction 415
CNG's Electronic Auction 415 features 786 lots, closing on 28 February 2018, beginning at 10 AM ET.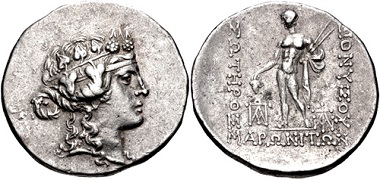 Lot 7: Thrace, Maroneia. Tetradrachm, late 2nd-mid 1st centuries BC. VF, lightly toned. Estimate: 150 USD.
The first highlights of this sale include an impressive group of Thracian coins.
Lot 57: Macedon, Local Dynasts. Philotas, circa 400-380 BC. Very rare, only 19 specimens known to Wartenberg. Estimate: 300 USD.
Sought-after issues of Macedonian coinage from the the Belgica Collection, such as the very rare issue of the local dynast Pilotas' AE certainly tease collectors of Anciant Greek coins.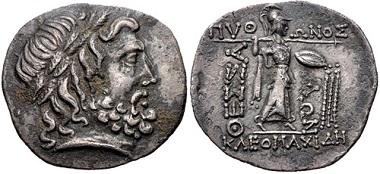 Lot 177: Thessaly, Thessalian League. Stater, mid-late 1st century BC. From the BCD collection. Good VF, toned, some rough encrustation. Estimate: 100 USD.
Among the offer of Thessalian coinage, further issues from the BCD Collection are on sale.
Lot 258: Ptolemaic kings of Egypt. Ptolemy II Philadelphos, with Arsinoe II, Ptolemy I, and Berenike I. Half Mnaieion 'Tetradrachm', 285-246 BC. From the D. Massey Collection. VF, a few minor marks. Estimate: 3,000 USD.
Greek, Roman and Byzantine gold coins from the D. Massey Collection include more rarities. The sale is rounded out with over 100 group lots.
To view the sale online, click here.