[bsa_pro_ad_space id=4]
It all began during a dinner in the autumn of 2011. Claire Franklin showed me some cartoons she had created for a British student magazine. I couldn't stop laughing. The idea of comparing Heracles and the Hydra to everyday office work was simply divine – and so accurate! I asked her at the time if I could share these cartoons with CoinsWeekly readers. Claire Franklin agreed. Ever since, she has delivered a new cartoon every week. Her creativity is inexhaustible!
Claire Franklin has a gift for seeing the adversities of everyday life in a completely new light. I'm a fan of her work because she regularly manages to use wit and irony to put into perspective the festering problems of an increasingly complex environment that even we coin enthusiasts struggle with. I am always delighted to find her carefully wrapped bundle of new cartoons in my mailbox and save them for a particularly stressful and frustrating day. When I start to doubt the point of my existence around 5 p.m., I unwrap her cartoons and by the third one, at the latest, the only reaction I have left for everyday madness is to burst out laughing.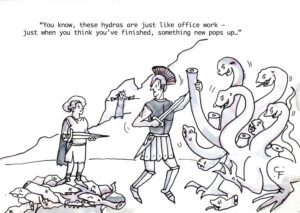 I know that Claire Franklin has a lot of fans – after all, I see what news our newsletter subscribers click on. However, I also often hear from colleagues who are not so familiar with ancient numismatics that there are some cartoons they did not understand. That's no surprise: many of Claire Franklin's cartoons are pure numismatics. She is inspired by the coins she identifies as part of her job as a numismatist at the Münzen und Medaillen GmbH. Anyone who knows the coin types of ancient numismatics by heart immediately knows which coin she is referring to. Those who do not would be well advised to visit her office, where the inspiration for her cartoons can be found on coin trays.
Joachim Stollhoff, the owner of Münzen und Medaillen GmbH, came up with the great idea of presenting the cartoons next to the images of the coins that inspired Claire Franklin: from 7th century electrum coinage from Asia Minor to early modern fractional coins of the Visconti. On the left you find the coin and the numismatic description, on the right the cartoon – everything in German and English.
In addition, there are some of Claire's coin-free "classics" making fun of coin enthusiasts or dressing everyday madness in the costume of the past: we see a coin enthusiast who, given the bad weather in tropical paradise, consoles his wife by saying that he took the entire RIC series with him; a lost car driver who doesn't know which road he is on but does know that coins were minted in that very area around 1270; and a Roman customer who reads a warning sign on a covered vase indicating that the vessel depicts scenes of explicit nature and brutal violence that are unsuitable for youngsters, to name but a few of my favourite cartoons.
Now all lovers of Claire Franklin's cartoons have the choice. They can either go to our Claire Franklin site and see her cartoons one by one. Or they can send an email to Joachim Stollhoff to order Claire Franklin's book for 30 euros plus packaging and shipping. By the way, the book is an excellent Christmas gift for coin enthusiasts.
A warning: Claire Franklin's humour can be life-sustaining. Laughter is good for your health. However, once you've started flipping through Claire Franklin's book, you won't be able to stop until you reach the end.
Here you can find all (yes, ALL!) Cartoons of "Franklin's World".
Find out more about the cartoonist in our Who's Who about Claire Franklin.