[bsa_pro_ad_space id=4]
China and World Coins Establish New Stephen Album Record
Stephen Album Rare Coins held its Auction 38 on September 24 – 27, 2020 at its offices in Santa Rosa, CA. The continued strength of the market was shown as the auction far exceeded expectations. With a total hammer price of $2.10 million (including buyer's fees), a new record was set for the firm, who had broken their record total in their previous auction in June 2020. A sell-through rate of 94.5% for the floor sessions further verified that collectors are clamoring for coins, with more and more coin sales across the world being pushed to internet-based venues.
Many items went for multiples of their estimates, including the following (prices include buyer's fees):
Lot 1169: China, Chihli. Kuang Hsu (1875-1908). AR dollar, Peiyang Arsenal mint, year 29 (1903). With deep original color and iridescent rainbow toning on obverse. NGC graded Specimen 65. RRR, ex Richard Bagge Collection. Estimate: $60,000 – 80,000. Realized: $202,300.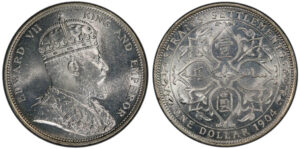 Lot 1523: World. Straits Settlements. Edward VII (1901-1910). AR dollar, 1904-B. Radiant luster on a mirror-like surface, a superb example with tremendous eye appeal. The highest graded example by PCGS and tied with 4 examples by NGC, PCGS graded MS65. Estimate: $300 – 400. Realized: $19,040.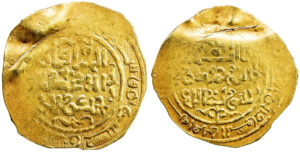 Lot 509: Islamic. Great Mongols. Chingiz Khan (1206-1227). AV dinar, MM. Obverse legend includes his name, al-khaqan / al-a'zam / chingiz khan, with the kalima in the reverse field. The reverse margin text presumably cites the Abbasid caliph, but only the words amir al-mu'minin are legible. Some flatness and flan split, unpublished and presumably unique, Very fine – extremely fine. RRRR. Estimate: $3,250 – 4,000. Realized: $7,735.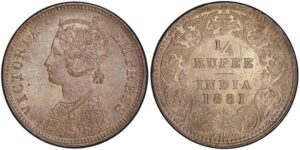 Lot 893: India, British India. Victoria (1876-1901). AR ¼ rupee, 1881(b). Variety with dot, shimmering old cabinet tone. PCGS graded MS64. Estimate: $400 – 600. Realized: $5,950.
Founder Steve Album was happy with the results: "While all areas did well, the Chinese and World sections far exceeded our expectations."
The firm is currently taking consignments for its Auction 39 through November 1. That sale will be held January 21-23, 2021. You can visit the firm's website for more information.
There you can find a complete list of all prices realized in auction 38.