[bsa_pro_ad_space id=4]
28-09-2015 – 01-01-1970
e-monnaies 4
French Royal Gold Coins offered by cgb.fr
472 lots are presented at the "e-monnaies 4" live auction, from ancient coins to French royal and modern coins, including World coins.
brm_362148: Domitius Ahenobarbus, Denarius, 41 B.C. EF. Estimate: 4,500 euros.
Top lots of the sale for the ancient coins will be a denarius of Cnaeus Domitius Ahenobarbus (lot brm_362148) from the Robert Couet collection, an extremely rare gold stater of the Parisii (lot bga_364273) or a gold stater of Philipp III Arrhidaeus (lot bgr_364252).
bry_361377: Philip IV "THE FAIR", Florin d'or dit "à la reine". VF. Estimate: 18.000 euros.
Further in the catalog, Cgb offers an extraordinary gold guilder of Philip IV the Fair (lot bry_361377) from the treasure discovered at Taillebourg, a highly rare "écu de Béarn" of Louis XIV (lot bry_361849, starting price 7 500 euros) …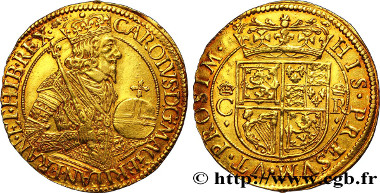 fwo_361659: Charles I of England, Edinburgh. VF. Estimate: 4,000 euros.
… or an "unité d'or" equivalent 20 schillings of Charles I of England for Scotland (lot fwo_361659).
You can browse through the complete auction catalogue online here.
This autumn live auction "e-monnaies 4" is closing on September 29th. Free catalog on request. The first lot will be allocated on September 29th, 2015 at 2:00 pm, Paris time.