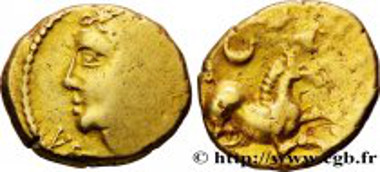 [bsa_pro_ad_space id=4]
30-03-2015 – 01-01-1970
e-monnaies 2
Gold Stater of Vercingetorixs at the new live auction of cgb
Nearly 400 lots will be presented at the "e-monnaies 2" live auction of cgb, from ancient coins to French modern coins, including world coins.
Gold Stater of Vercingetorixs, 58-52 BC. Estimate: 50,000 euro.
Among Celtic coins, extremely rare items will be presented, such as a gold stater of VERCINGETORIXS at the starting price of 20,000 €, valued at 50,000 €.
You will also find a stater of Tylisos, from the Jameson II collection, valued at 7,500 €.
Aureus of Plotine, 112. Estimate: 28,000 euro.
A new selection of Roman denarii from the Collection Robert Couet will be auctioned. You will also find an aureus of Plotina at the starting price of 19,000 €, valued at 28,000 €, as well as an aureus of Faustina II valued at 8,500 €. And, finally, a rare light Miliarense of Eugenius valued at 6,000 €.
You will also discover 22 Merovingian trientes, all of them extremely rare, some of which are unique. There will also be a triens in the name of de Charibert II valued at 6,000 €, and a triens in the name of Sigebert II.
Denarius of Carloman I. Estimate: 12,000 euro.
Carolingian coins will also be featured, with almost 30 items auctioned. Take all your time to contemplate the denarius of Carloman I, a most rare coin which is absent of a number of collections, valued at 12,000 €, or this hitherto unseen denarius of Charlemagne, valued at 10,000 €.
Among feudal coins, other beautiful rare items will also draw the collectors' eye, such as this "petit écu ou double teston" minted in Nancy in 1736, valued at 7,500 €, or this rare Tiers de plaque minted in Saint-Mihiel, valued at 2,200 €.
Manuel I, King of Portugal, 10 cruzados, Lisbon. Estimate: 55,000 euro.
A bit farther in the catalogue, let us mention this 10 cruzados minted in Lisbon under the reign of Manuel I, King of Portugal – a coin valued at 55,000 € – or this series of English golden coins. You should also take time to contemplate the French royal coins, among which we may highlight these two superb Louis and Demi-louis dit "de Noailles" of Louis XV, valued respectively at 10,000 € and 5,800 €, or this beautiful Louis dit "au genie" of Louis XVI, also minted in Paris. As a whole, more than 70 royal gold coins will be auctioned.
Finally, to close this auction sale, there are 50 French modern gold coins of Napoleon Bonaparte, among which stands this 40 francs minted in Paris in 1803, valued at 2,000 €, several 100 francs "Troisième République", but also the coins of Louis XVIII and Charles X.
To browse through the complete auction catalogue please click here.
The first lot will be allocated on March 31st, 2015 at 2:00 pm, Paris time.