[bsa_pro_ad_space id=4]
15-05-2017 – 01-01-1970
Auction Banknotes
Live auction with chosen banknote rarities at CGB
This sale is not just any sale. The documents offered for this sale represent such an exceptional and remarkable set that this catalog will remain a reference for the coming years.
Bank of France. 5000 Francs Flameng France 1918. F.43.00 XF. Estimate: 12.000 EUR.
CGB has endeavored to depict and illustrate each lot with as many precisions as possible and to gather any noteworthy information about them, but specialized collectors will undoubtedly find new specificities or variants.
Bank of Indochina. 20 Piastres Haiphong 1909. P.017ap UNC. Estimate: 6.000 EUR.
These 153 lots embody the Banque de France, the quality of its issuances, of its artists and craftsmen, as well as its worldwide notoriety. During the entire first half of the 20th century, the Banque de France managed to export its know-how everywhere from Uruguay to Indochina, from Poland to Maghreb and from the African continent to Yugoslavia, including Lebanon and India.
Bank of Syria and Great Lebanon. 100 Livres 1925. P.08p UNC. Estimate: 12.000 EUR.
The documents you will discover in these pages are all rare. Some are hitherto unseen, some are signed by prestigious artists such as Clément Serveau, Jonas, Deloche or Luc Olivier Merson, while others are projects that were eventually not issued or modified for their final issuance.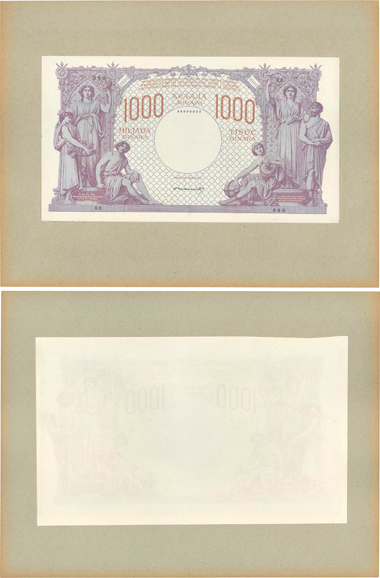 Yugoslavia. 1000 Dinara 1909. P.020p. Estimate: 11.000 EUR.
Although signed proof notes sometimes happen to pop-up on the market, the CGB experts had never seen most of these documents in this form. Such a selection, both varied and including so many rarities, is exceptional.
Collectors will have three weeks to place their bids. The Live closing of the sale will start on Tuesday, 16 May as from 2pm. Be careful, in less than two hours, all the lots will be attributed! Do validate your registration as soon as possible and send your orders in advance to make sure you can take part in the bid.
Find out more on the website of CGB.
You can browse all the items of the auction here.