[bsa_pro_ad_space id=4]
29-02-2016 – 01-01-1970
e-Monnaies Live Auction
Cgb.fr "e-Monnaies" Live Auction
More than 500 lots are on offer in the Cgb.fr Live Auction: "e-Monnaies –March 1st 2016", ranging from ancient coins to royal coins, and from modern French coins to world coins.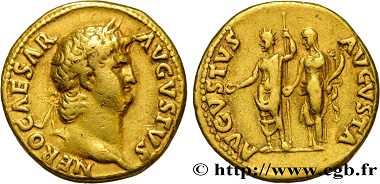 Lot 83: Nero, Aureus, 64-65, VF. Estimate: 5,500 euros.
Among the approximately 100 ancient coins on offer, you will no doubt notice a beautiful aureus of Nero (starting price € 3,800), a denarius of Julius Caesar with a particularly remarkable portrait of Venus or a really splendid half-argenteus of Constantine 1st. A wide range of Greek, Byzantine, and Celtic coins will complete this selection of Ancient coins.
Amateurs of royal and feudal coins will appreciate the marvellous assortment presented. Among these coins, you will no doubt admire a splendid and particularly sought-after Gros de Lorraine for Louis de Bar or a beautiful Gros au Saint Etienne debout for the Bishop of Metz, Thierry V Bayer de Boppard. An interesting set of Louis XIV coins will be the highlight of this part of the Live Auction, in particular an écu known as "au buste drapé à l'antique"1686, Paris (€ 5,000/9,000). This much sought-after monetary type is rare because of the various monetary reforms that were implemented, the first of which was ordered by an edict in December 1689. An écu à la cravate, known as "for the Parlement", 1680, Rennes, from the L.G. collection (€ 2,200/4,000) is also not to be missed.
Lot 364: 2 francs Napoléon Empereur, tête de nègre, 1807, Paris F.253/1, EF. Estimate: 7,000 euros.
In the part of the Cgb.fr Live auction dedicated to modern French coins, you will find, among other rare coins, an exceptional 2 Franc Napoléon Empereur Tête de Nègre 1807 A, with a remarkable cameo aspect. The following item from the Collection Idéale must also be mentioned: a Napoléon III centime Tête Nue 1856 MA, encapsulated PCGS MS 63 BN. As far as the 5 Franc écu coins are concerned, let's mention the following two lots: the rare 5 Franc Napoléon Empereur Type Transitoire 1807 A, in TTB 42 from the Bergerard Collection or the 5 Franc Bonaparte Premier Consul An 12 MA, from the Collection Idéale.
Lot 453: Brazil, Jean V, 6400 Reis, 1er type, 1727, Bahia, MS. 12,000 euros.
Above all, an exceptional selection of world coins will make this Live auction outstanding. It will take you from the German States to the Duchy of Brabant or to Brazil. The double Frédéric, a 10-thaler coin, is the emblematic coin of the Kingdom of Prussia. The example offered in the Live auction is simply superb (€ 2,000/4,000). A 10-thaler coin of Jérôme Napoléon for Westphalia (€ 1,000/2,000) will also be offered for sale, as well as a 1st type 6400 Reis for Jean V of Brazil. This example is in a remarkable state of conservation and is all the more interesting as it comes from the Bahia (B) workshop. The coins minted in Bahia are far rarer than the 6400 reis coins minted in the Rio de Janeiro (R) workshop.
This part of the Live auction dedicated to world coins will end on a high note with a double sovereign for Maximilien-Emmanuel of Bavaria coined in Namur in 1712. The coinage for Maximilien Emmanuel of Bavaria for Namur is an ephemeral coinage, even rarer for gold coins, reserved for the use of prestige coinages. The double sovereign is unquoted in all works consulted. It is thus an exceptional item!
Lot 452: Belgium, Namur, Maximilien Emmanuel of Bavaria, Double Souverain d'or, 1712, Namur, aEF. Estimate 45,000 euros.
This Double Sovereign was minted in a special historical context. While ruling the Netherlands under Charles II, Maximilian II Emanuel rallied the French side and that of Philip V during the war of Spanish succession. At the beginning of the year 1712, Louis XIV, the King of France, let Maximilian II Emanuel, Elector of Bavaria have the last piece of the Spanish Netherlands. In 1713, the peace treaty of Utrecht assigned the Netherlands to Charles of Austria. Yet, Maximilian II Emanuel retained his provinces of Namur and Luxemburg until the Austrian troops left his Germanic states in 1714.
It is in this special context that Maximilian II Emanuel had coins minted in Namur – from 1712 to 1714 as regards the silver crown coin.
The liards that bore the effigy of Maximilian II Emanuel were minted as early as 1712, after those of Philip V, in order to satisfy the demands of the people and of trade. Such liards allowed the effigy of the new sovereign of Namur to circulate quickly.
Contrary to copper coins, very few gold and silver coins were minted. Gold specimens are so rare that the double sovereign and the sovereign are classified "unrated" in reference books. These are exceptional coins! For example, the only specimen of double sovereign photographed in the main Belgian numismatics publications is the one to be found in the Medal Department at Munich. It was struck with the same observe and reverse dies as our specimen, which may suggest that only one pair of dies was engraved. No such specimen has been offered for sale over the past years. It has to be said that finding a gold coin belonging to such ephemeral issues is really exceptional.
Lot 271: Louis XIV "The Sun King", Double louis d'or au soleil, 1710, Lyon, EF. Estimate: 15,000 euros.
The specimen offered for sale is the stereotype of the rare, invaluable coin. It was minted in a difficult context, with the effigy of an ephemeral sovereign and was the highest denomination in the ongoing system at that time. It has all the characteristics of a rare, much sought-after coin. In terms of style, the portrait was obviously made after that of Louis XIV at the end of his reign, in line with the context of the political alliance formed with France (Lot 271).
The French currency standards can also be found on the reverse side: a crown made of multiple quarters, which recalls the reverse side of the crown called "Flandre", for instance. This prestigious coin is now for sale at the ongoing Live Auction March 1st. Its starting price has been set at € 15,000 and it has been valued at € 45 000. So now you understand: this coin is so rare that it is really priceless!
This "e-Monnaies" live auction will be closing on March 1st, 2016. Put in your bids now for the lots you are interested in on the internet site of cgb, by post (Cgb.fr, 36 rue de Vivienne, 75002 Paris, France) or by email.