[bsa_pro_ad_space id=4]
18-04-2016 – 01-01-1970
Spring Live Auction
CGB Spring Live Auction
Almost 360 lots are on offer in the spring CGB Live Auction – April 19, 2016", ranging from ancient coins and French royal and modern coins to world coins.
This Live auction is mainly made up of two exceptional collections: the Michel collection and the F.L. collection.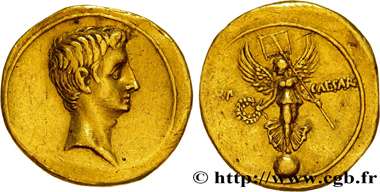 Lot 51: Octavian. Aureus 30-29 BC. VF. Estimate: 10,000 euros.
The aurei series on offer from the F.L. collection is quite remarkable. There is an absolutely beautiful Marcus Aurelius aureus, an Antoninus Pius aureus with a lovely bust of the Emperor. Tiberius is also present, and so is Vespasian with an extremely rare type of aureus. Titus and Octavius bring this superb selection of aurei from the F.L. collection to a close. A huge set of outstanding solidus will complete the ancient part of this collection.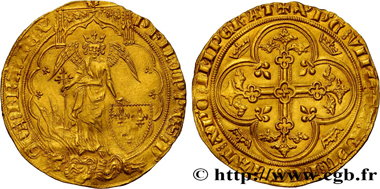 Lot 165: Philip VI of Valois Ange d'or n.d. 1341. aEF/EF. Estimate: 12,000 euros.
As for amateurs of royal or feudal coins, they will appreciate the amazing assortment on offer. This sale presents a selection of Carolingian, royal and feudal coins, some of which are exceptional. Among these, amateurs of gothic gold coins will find not only an agnel d'or of Louis X (1314-1316), but also an "ange d'or" or a "chaise d'or "of Philip VI de Valois (1328-1350). The part of the sale given over to feudal coins presents a spectacular gold quadruple écu struck in Turin in 1640. This coin bears the busts of the Regent and her young son, Charles-Emmanuel II Duke of Savoy.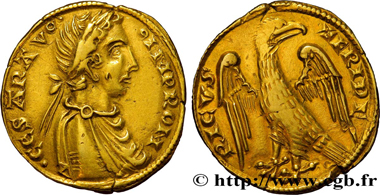 Lot 349: Italy. Holy Empire. Frederick II of Hohenstaufen. Augustale n.d. Messine. VF. Estimate: 10,000 euros.
Among the world coins from the F.L. collection, you will see a very beautiful double sovereign from the Spanish Netherlands minted for Albert and Isabelle and also a very rare gold Augustale bearing the name of Frederick II of the Holy Empire.
Lot 347: Greece. Constantine I. Essai de 1 Drachme 1915 Paris. UNC. Estimate: 18,000 euros.
The second part of the Live Auction is devoted to coins, series, patterns, contests from the mythical Michel Collection! The period of predilection for this collection begins at the start of the 20th century and ends in the 1970s. It is made up of a vast selection of 115 monetary patterns: contests, uniface patterns, pre-series, final patterns or just rare coins. All the coins are certified by PCGS. Among them, there is a rare Greek 1 drachma essay bearing the effigy of Constantine I dated 1915 or a pattern of the Ethiopian 1 Birr dated 1903. You will discover in these pages numerous, extremely varied patterns and contests which show the testing and experimenting carried out by the Paris Mint. These coins are for the most part unique.
The first lot will be attributed on Tuesday April 19, 2016 at 2pm, Paris time. You can bid now for the lots you are interested in on this internet site, by post (Cgb.fr, 36 rue de Vivienne, 75002 Paris, France) or by email.