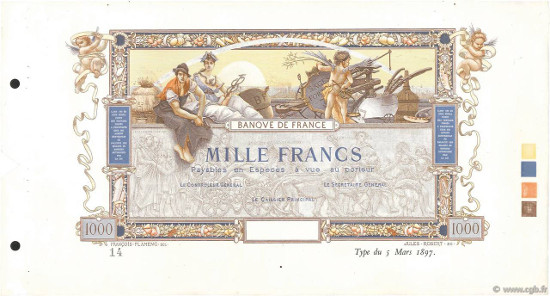 [bsa_pro_ad_space id=4]
19-05-2015 – 01-01-1970
e-billet 2
Live Auction of French Banknotes at cgb
cgb offers more than 400 lots of banknotes from the Banque de France in his e-billet 2 sale, the new paper currency live auction. The sale will close on May 20th from 2 pm.
lot 4020009: 1000 Francs FLAMENG (05 mars 1897), Pattern without filigree. Fayette ref. F.A52.00. Almost UNC. Estimate: 14 000 euro.
These 19th and 20th century banknotes have been carefully selected for their rarity, their distinctive features or their quality.
lot 4020108: 500 Francs SCIENCE ET PHILOSOPHIE (1931), Pattern without filigree, large size. XF. Estimate: 12 000 euro.
Each main theme of French banknotes collection will be dealt with: 19th c. rarities, 20th c. rare dates and qualities, specimens, patterns and proofs, and also satellite collections, such as forgery and error notes, small and big numbers, etc. The variety of lots offered for sale should enable a wide number of collectors to fill in gaps, complete series and discover rare documents as well as hitherto unseen variants.
lot 4020003: 100 Francs type 1862 Indices Noirs. Fayette ref. F.A39.17, P.052b. Fine. Estimate: 3 500 euro.
Although this catalogue is rather non-specialized, it will make you discover, among other things, an exceptional series of error notes. You will find a total of more than 90 lots of several face values covering the whole array of possibilities of this subspecialty: single-side notes, notes with extra paper or without intaglio print, misaligned notes, and even an exceptional 500 Francs Pascal with an inverted watermark.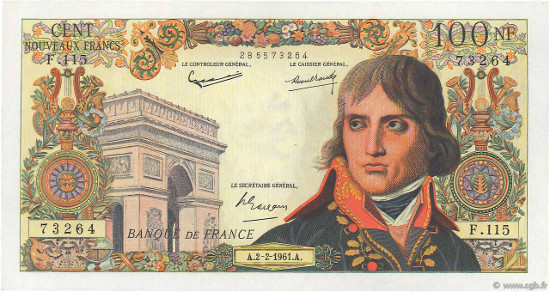 lot 4020214 – 100 Nouveaux Francs BONAPARTE (1959), FORGERY NOTE called Bojarski. Fayette ref. F.59.00. UNC. Estimate: 9 000 euro.
Error banknotes captivate more and more paper currency collectors. Given that the Banque de France has always displayed the utmost strictness in its work, errors have been rare, quickly spotted and corrected. As for banknotes, they were destroyed and replaced (usually by new prints bearing the letter W).
Ask our free catalogue via email.
All lots will be displayed online on the website of cgb.
And here you can watch a video about the auction.