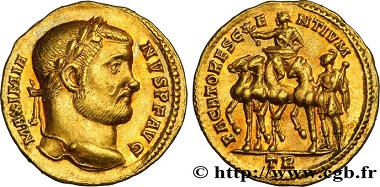 [bsa_pro_ad_space id=4]
27-06-2016 – 01-01-1970
CGB Live Auction
CGB e-Monnaies June 2016
More than 480 lots will be up for sale during CGB's Live Auction, closing on 28 June 2016 – from ancient coinage to royal and modern French coins as well as world coins.
The sale will begin with a fine selection of Greek coins from the François Charrin collection, most notably a lovely ensemble of ancient Seleucid coins (lot 392393, Antiochus X Eusebes Philopator, Tetradrachm) and Greek coinage (lot 392392, Macedonia, Philip III, Tetradrachm bearing the name and effigy of Philip II, Amphipolis). A vast variety of Roman coins from the Robert Couet collection will be a great addition to the catalogue's ancient coins section.
Lot 391244: Roman Empire, Maximian, Aureus. Trier 297. C. 424 (300f.); RIC 65b (R3). About extremely fine. Estimate: 25,000 Euro.
A wonderful assortment of Roman Empire aurei will be next: Antonia Minor (lot 392383), Hadrian (lot 390378), Severus Alexander (lot 388736) and an extremely rare Maximianus Herculius aureus from Trier (lot 391244). It is supplemented by a series of extremely good quality Roman bronze coins: Nero, As from the Lyon mint bearing the Ara Pacis (lot 392391) and a rare Marcus Aurelius Sestertius commemorating the victories in the Germanic Wars (lot 392389).
Lot 391698: Roman Empire, Constantine the Great, Médaillon d'argent de 4 miliarense légers, Constantinople 330. C. 136 (300f.); RIC 53var. Extremely fine. Estimate: 40,000 Euro.
A splendid and extremely rare Multiple of Constantine the Great (lot 391698) minted for the dedication of Constantinople in May 330 AD will top off this portion of the auction.
Lot 393006: Carolingian, Charles the Bald. Obole, Châlons-en-Champagne c. 864-900. G.-; Prou.-. About very fine/very fine. Estimate: 3,000 Euro.
As for fans of royal and feudal coins, they will appreciate the amazing assortment on offer. Several extremely rare Carolingian coins are being presented in this Live Auction, such as an Obol from Châlons-en-Champagne for Charles the Bald, of which until now only one other fragmented specimen was known to exist (lot 393006), an Obol from Bar-sur-Aube (lot 393008) and a Denarius from the Jouarre Monastery (lot 393012).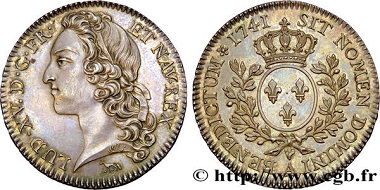 Lot 390380: France, Louis XV. Half Ecu "au bandeau" pre-production, Paris 1741. C. 2125; L. 699. MS/UNC. Estimate: 9,500 Euro.
The portion devoted to royal coins is presenting a remarkable preproduction half Ecu bearing Louis XV's headband minted in Paris in 1741 (lot 390380), and an original Calonne Écu (lot 389874). Among the feudal coins, take note of a rare Edward III Gros with a door for Aquitaine from the famous Elias collection (lot 387733). Several new coins are being presented, including a Marie de Brabant Denarius for Vierzon (lot 393089) as well as a rare Denarius from Roquefeuil (lot 387930) and an extremely rare Hugh I Denier (1076-1079) for Dijon, the first feudal coin of the Duchy of Burgundy (lot 393016).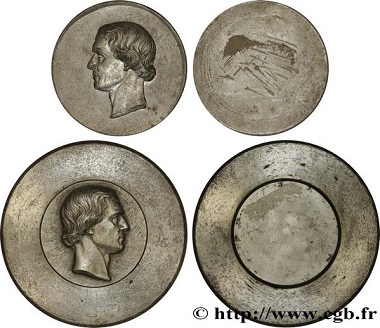 Lot 384299: Second Empire, two dies, no date (1843-1855). Head of Jacques-Jean Barré. Extremely fine. Estimate: 5,000 Euro.
The portion of the 28th June auction devoted to Modern French coins is presenting a very rare ensemble of two coin dies, one negative and one positive, of Jacques-Jean Barré's head (lot 384299) – a veritable piece of history! An unusual Louis-Philippe 5 Francs coin, Domard 1st type, with engraved edge, 1831 Toulouse (lot 391154) is also on offer during this June 2016 auction. Napoleon is of course well represented with, among others, a "Hundred Days" coin, an 1815 Paris 2 Francs, PCGS AU55 (lot 371913), and even a 40 Francs gold coin, 1806 Turin (lot 392054).
Lot 390461: Germany, Saxony, John George I., ducat "Augsburg confession", Dresden 1630. F. 2701; Claus/Kahnt 312. Very fine. Estimate: 2,000 Euro.
The auction will end with world coins. The auction's most appealing foreign coin is definitely the 1890 Carson City PCGS MS62 10 Dollar coin, (lot 383906). This is a high-quality coin for the Carson City mint, still quite rare even for 10 Dollar coins.
Two coins which go hand in hand are also being offered – a rare Double Ducat and a remarkable Saxon Ducat commemorating the Centennial of the "Augsburg confession". Both coins are from Dr. Nordmann's collection (lots 390461 and 389486).
We should also point out the Italian 20 Lire coin, minted in 1905 with the effigy of Victor Emmanuel III, PCGS MS61(lot 383893). This is an unusual coin for the Latin Monetary Union.
Please take a look at the online catalogue here.