[bsa_pro_ad_space id=4]
19-04-2018 – 01-01-1970
Electronic auction XLIX
Cayón's Electronic Auction 49 online
Cayón's Electronic Auction XLIX will be closing 20 April 2018 at 5 pm, Madrid.
Lot 2002: Granada. Doble excelente, 1497. Very fine / nearly very fine+. Starting price: 1,050 euros.
The sale features almost 350 lots including more than 50 lots of Spanish gold coins. The focus is on Spanish coins but collectors will find also Roman and World coins as well as Euro coins.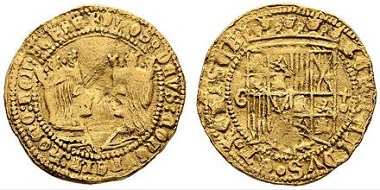 Lot 2001: Granada. Excelente, 1497. Nearly very fine+. Starting price: 900 euros.
These are the topics: Spanish gold coins (lots 2001-2054), …
Lot 2068: Roman Empire. Nero. Aureus, 68. Very good-. Starting price: 750 euros.
… Roman coins (lots 2055-2107), Spanish coins until the18th century (lots 2108-2135) …
Lot 2140: Mexico. Fernando VI. 8 reales, 1753. Very fine. Starting price: 120 euros.
… Spanish coins from the 18th century (lots 2136-2160), Spanish pesetas (lots 2161-2299), Euro coins (lots 2300-2325), World coins (lots 2326-2347).
To bid online or to browse the catalogue go to Cayón's website.