[bsa_pro_ad_space id=4]
05-07-2016 – 01-01-1970
Ritz Hotel Special Auction
Extraordinary sale in Madrid
Cayon Auctions will hold an extraordinary sale on July the 6th, 2016 at the hotel Ritz, Madrid (Spain).
Starting at 11 am in the morning, the auction begins with 22 lots of ancient Greek and Byzantine coins.
Lot 48: Roman Empire. Caligula. Sestertius, 37 AD. RIC 27. Starting price: 2,500 euros.
It will continue with 195 lots of coins from the Roman Empire featuring a collection of more than 150 sestertii and 10 aureii.
Lot 413: The Netherlands. Wilhelm III. Gulden, 1867. K93. Starting price: 9,500 euros.
In addition, there will be 326 lots of world coins (silver and gold), some of them very rare. Among the highlights are some lots from the United Kingdom, an extremely rare gulden from the Netherlands, of which only 4 specimens were minted, some Russian coin.
Lot 562: Felipe II. 8 reales, 1597, Segovia. Starting price: 3,500 euros.
The afternoon session starts at 4.30 pm and will feature 575 lots of Spanish silver cobs: 8, 4 and 2 reales. This is a terrific collection of cobs minted in Burgos, Cuenca, Madrid, Segovia and for sure in Mexico, Potosi and Lima.
Lot 940: Luis I. 8 reales, 1725, Potosí. Starting price: 3,000 euros.
This collection of cob coins is the best collection of this kind which has been offered within the last decades. This group also includes some rare royal coins.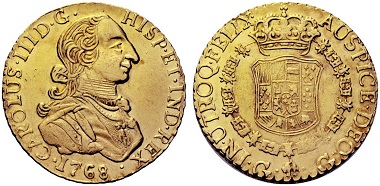 Lot 1168: Carlos III. 8 escudos, 1768, Guatemala. Starting price: 40,000 euros.
There will also be 325 more lots of Spanish gold and silver coins from medieval times to the 19th century including a gorgeous group of gold 8 escudos (more than 60 lots of rare mints and types such as Guatemala, Mexico from Felipe V, Madrid, Lima…) …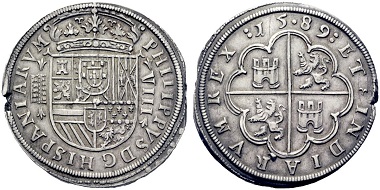 Lot 1131: Felipe II. 8 reales, 1589, Segovia. Starting price: 900 euros.
… and also some remarkable silver crowns 8 reales (more than 160 lots) …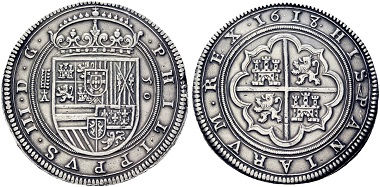 Lot 1141: Felipe III. 50 reales (cincuentin), 1618, Segovia. Starting price: 10,000 euros.
… and a 50 reales or cincuentin.
You can find two complete pdf catalogues for the single sessions at the Cayon website: Session 1 and Session 2.
Also you can surf through the auction lots at Sixbid.
Live bidding is possible through Coretech.
Remember that all orders have to be confirmed by email. As soon as you have entered your bids, you will enjoy the automatic outbid system. Buyer's fee is 20% (22% for live bidding).
If you need any assistance don't hesitate to contact Juan Cayon.