[bsa_pro_ad_space id=4]
Carefully Curated #2 by Shanna Schmidt
Shanna Schmidt presents her second "Curated Collection" fixed price list. For this, she has carefully put together a number of high quality new purchases – mainly Greek and Roman coins. Here she describes some of the highlights.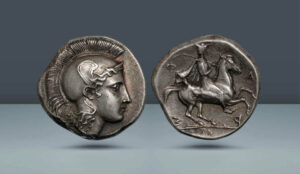 A lovely drachm from Thessaly signed by the engraver Telephantos. This type has a classical obverse style of Athena and reverse of a Thessalian cavalryman. My coin has lovely iridescent toning and a nice strike.
Another favorite is the Aes Grave cast in the early Roman Republic. These large bronzes are a favorite of mine and I try to snap them up whenever I see one that looks nice. This one has a beautiful patina and clear imagery.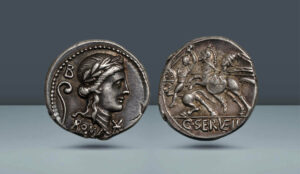 Another stunning coin from the Roman Republic is the C. Vervilius Vatia denarius. This issue closely copies the reverse type of C. Servilia in 127 BC, some 40 years earlier. The link between the coins is that they likely belonged to the same families which were related to Sulla.
Also under the Republican time period is a denarius from L. Iulius Caesar, an older relative of the Julius Caesar we all know. This coin is from a Gitta Kastner auction from 1976 (the precursor to Lanz Numismatik in Munich) and has a charming reverse of two cupids pulling Venus in a biga.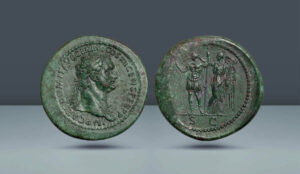 For the Roman time period I'm offering a stunning bronze sestertius of Domitian. This comes from an NAC auction from 2017 and has a patina that will make your heart melt. It is a charming green color with some brown speckles. Struck in high relief, this coin would be a perfect compliment to any collection of the Roman Empire.
In the late Roman time period when the empire moved partially to Constantinople, I'm offering a gold solidus of Pulcheria. She was the sister of the emperor Theodosius II and the wife of Marcian, his successor. This coin has a perfectly struck and centered strike of the empress and is in mint state.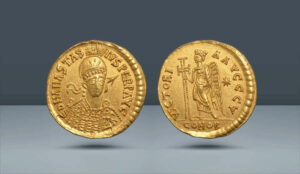 I'm also offering two coins of Theodoric, the Ostrogothic ruler that controlled the western Roman Empire. One coin is struck under Anastasius I and the other under Zeno. Both have the look and feel of solidii of the period.
For world coinage, I'm offering a beautifully rainbow toned 5 shilling of George III. This coin was previously encapsulated and graded PR64BN by PCGS. However, everyone that works with me knows that I don't sell encapsulated coins so if you purchase this you can have it put back in the slab. I have retained the ticket.
Finally I have a medal from die engraver Karl Goetz from Germany in 1923. On first glance one might think that this is a pro-Nazi medal but alas it is not (and I also wouldn't be selling it if it was pro-Nazi!). It memorializes the Hitler Beer Hall Putsch that took place on November 8, 1923. Goetz purposely misspells Hitler's name (written with two t's) on the medal and shows a comical scene of nationalist soldiers with a silly bearded man in both directions. Thankfully this putsch failed but unfortunately it didn't stop Hitler as history has shown. Goetz continued to design medals that were anti-Nazi but sometimes pro-German. For those interested I have several other Goetz medals for sale not up on my site or on vcoins.
Find more extraordinary coins in the Carefully Curated 02 catalog.
If you are interested in any other coins, visit Shanna Schmidt's website.