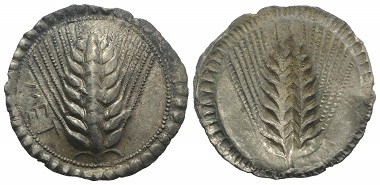 [bsa_pro_ad_space id=4]
19-05-2018 – 20-05-2018
E-live Auction 59
Bertolami's E-live Auction 59 online
Italian auction house Bertolami Fine Arts holds their E-live Auction 59 featuring ancient coins and numismatic literature. Most of the 2,204 lots are available for collectors with limited budget but there are also some high-quality pieces. The sale closing dates are:
20 May 2018 for lots 1-1279 at 1:00pm BST (London Time) (2:00pm CET)
21 May 2018 for lots 1280-2204 at 1:00pm BST (London Time) (2:00pm CET)
Some of the highlights are: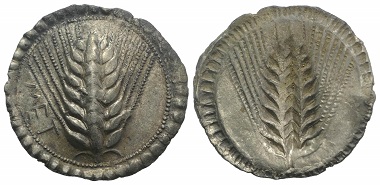 Lot 98.
Lot 98: Southern Lucania, Metapontion. Stater, c. 540-510 BC. VF – Good VF. Estimate: 2,900 GBP.
Lot 138.
Lot 138: Bruttium, Kroton. Stater, c. 530-500 BC. Estimate: 4,600 GPB.
Lot 572.
Lot 572: Tiberius and Germanicus Gemellus (19-37/8 and 19-23/4, respectively). Sestertius, 22-3, Rome. Green patina, tooling and smoothing, VF. Estimate: 3,900 GBP.
Lot 652.
Lot 652: Trajan (98-117). Sestertius, 114-6, Rome. Some tooling, near VF. Estimate: 1,100 GBP.
Additionally collectors will find selected coins from the Byzantine Empire, from Italian mints, world coins and medals, large lots and antiquities.
You can browse through the online catalogue where live bidding is possible.
For more information on the auction house visit the website of Bertolami Fine Arts.