[bsa_pro_ad_space id=4]
Autumn Auctions at Gerhard Hirsch With Jubilee Auction
Jubilee auction sale 350 will open the autumn auction week with Pre-Columbian art. The other catalogues cover ancient art, ancient coins, medieval and modern coins and medals.
Auction 350: Pre-Columbian Art (September 24th, 2019)
The auction of Pre-Columbian Art features over 270 Lots from old collections, many of which have TL Certificates to verify their age. The cover piece of the auction is a Nayarit couple from Western Mexico (ca. 500 B.C.-750 A.D.) which had already been published in a book of Ferdinand Anton in 1986 (estimation EUR 17.500,-). After a selection of objects from Guatemala, Costa Rica, Haiti, Colombia, Venezuela and Ecuador over 100 objects from Peru will be offered. An extraordinary stirrup-spout vessel of the Moche culture (400-500 A.D.) shows the evolution from a bean to a human-being further on to a winged god (estimation EUR 2.750,-). From Bolivia a pair of clay vessels in form of human heads with earrings will be offered from Tiahuanaco (600-900 A.D.). The auction will be closed with 10 lots of rare literature.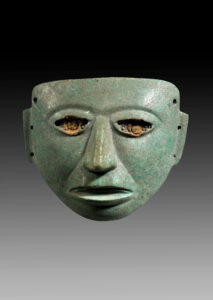 Auction 351: Antiquities (September 24th, 2019)
Over 850 lots of Antiquities will be auctioneered, providing some highlights for collectors. The cover piece is a torso of a Venus made of light alabaster. The archetype of this Roman work of art (1st-3rd c. A.D.) was the Venus Medici and the statue of Aphrodite of Knidos by Praxiteles (estimation EUR 12.500,-). The fight of Saint George with a dragon is displayed in wood and valued EUR 6.500,- (Southern Germany, 1st part of the 18. c.). After a collection of 50 decorative statues of Buddha or Hindu gods made of gold-plated bronze a selection of weapons and swords will also feature in this auction. A richly adorned Kris from the Island of Bali watched over by Nagas or other Demons will be offered with an estimation of EUR 2.800,-. A gold necklace with pendants in form of amphorae, crescents and flowers from the Early Hellenistic Period (4th-3rd c. B.C.) with a provenance that goes back to the 19th century stands out of the collection of jewelry (estimation EUR 6.000,-). Over 60 lots from Egypt ensure a spectacular finish of the auction. A wooden miniature sarcophagus with two ushabtis can be dated in the 16th c. B.C. and is estimated EUR 10.000,-.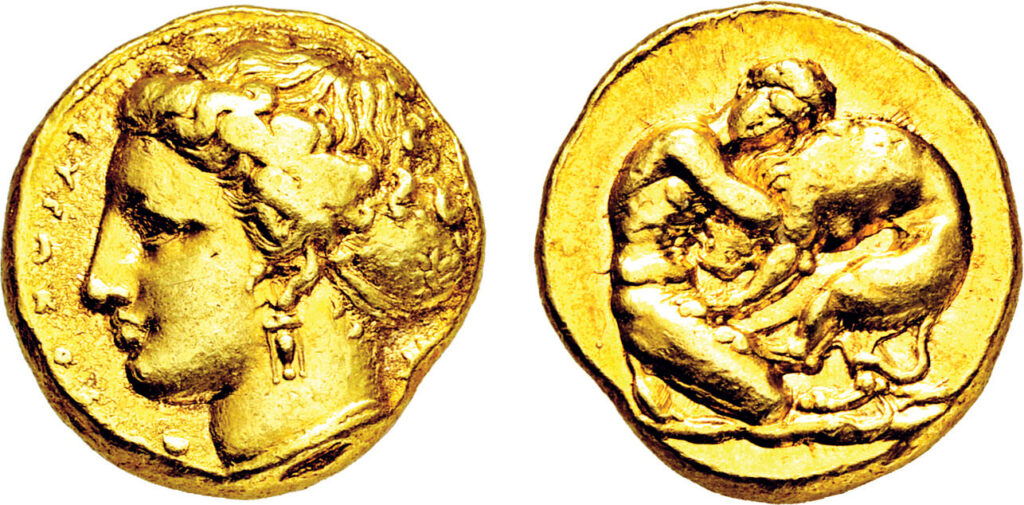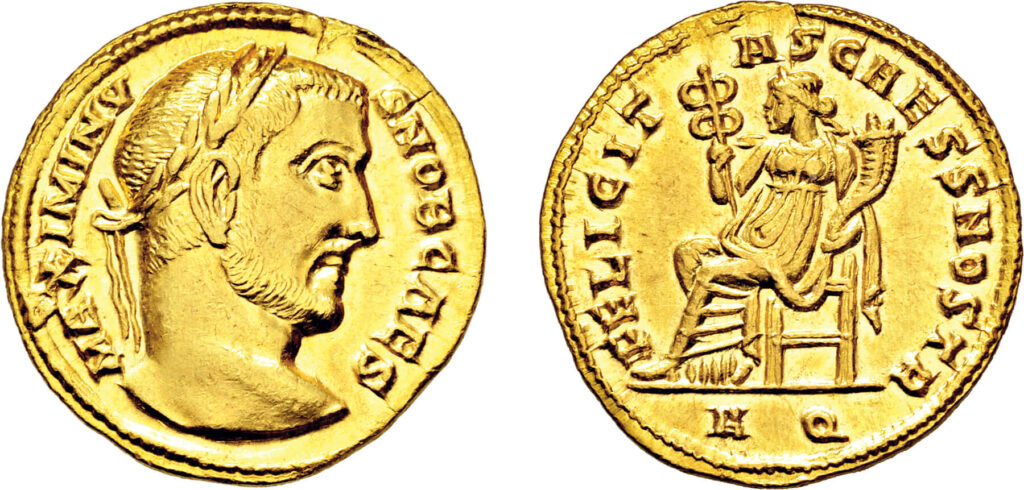 Auction 352: Ancient Coins (September 25th-26th, 2019)
More than 1550 lots of ancient coins will be offered on two days, among them many rarities. On the cover of the catalogue a tetradrachm of Mende in Macedonia (450-405 B.C.) shows the god Dionysus lying on the back of a donkey (estimation EUR 6.000,-). The sale also features over 150 lots from the Roman Republic with sought-after denarii. Among the coins of the Roman Empire, a very rare Aureus of Vespasian (69-79 A.D.) is depicting the temple of Vesta in Rome (estimation EUR 7.000,-). On a denarius of Caracalla (198-217 A.D.) a sea battle in a circus with wild animals can be seen (estimation EUR 2.250,-). After the Byzantine Coins over 270 interesting multiple lots will close the sale.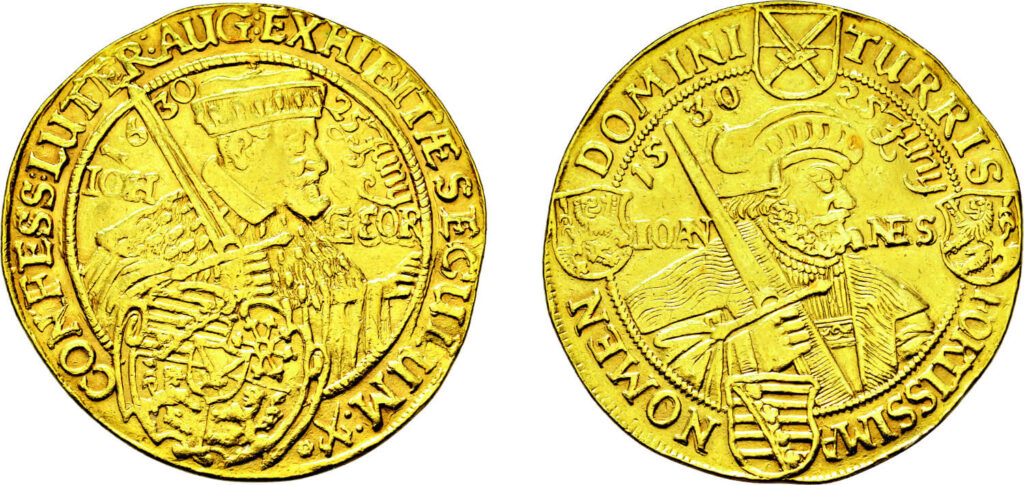 Auction 353: World Coins and Medals (September 27th, 2019)
The last sale of the auction week in September features nearly 1150 lots of World Coins and Medals. The auction starts with over 70 medieval coins followed by rarities of Germany and Austria. A very attractive lion from a medal of Karl Wilhelm of Baden-Durlach struck in 1709 can be found on the front cover. The sale also includes a series of coins from the Teutonic Order and many Talers from Nuremberg. Extraordinary is also a collection of 32 wooden board stones from the middle of the 16th century with heads of Roman emperors and their wives or family members (estimation EUR 12.500,-). They were struck in Nuremberg by Lienhart Danner, who was to first to use wood for medals. From China 2000 Yuan struck for the Olympic Games in the year 2000 with a weight of 5 Ounces will be offered with an estimation of EUR 7.500,-. From rare platinum finds in the Ural Mountains 6 Roubles were struck in 1829 under Tsar Nicholas I. (estimation EUR 28.000,-).
Here you will find the online auction catalogues: Auction 350, Auction 351, Auction 352, Auction 353.