[bsa_pro_ad_space id=4]
12-03-2016 – 26-03-2016
eAuction #46
Auctiones 46 ends March 27, 2016
Auctiones announces that its eAuction #46 is taking place from March 13-27. The sale features 212 lots from various collecting areas, of which the first half is devoted to ancient coinage.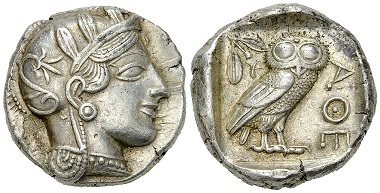 Lot 4: Athens. Tetradrachm, c. 430s BC. Estimate: CHF 2'500.
Hightlights include EF Tetradrachms of Alexander III and Athens, the first part of the François Righetti collection of Provincial coins …
Lot 49: Tiberius. Aureus, 15-18 AD. Estimate: CHF 4'500.
… and a number of Roman gold issues such as a Tiberius Aureus and a Leo I Solidus in FDC.
Lot 182: Solothurn. 5 Franken 1855. Estimate: CHF 3'000.
The sale continues with 117 modern coins from all over the world, including many rarities such as a Portuguese AV 4000 Reis 1711, a Spanish AV Doble Excelente, a Solothurn AR 5 Franken 1855 …
Lot 198: Iran. 10 Tomans 1311 AH. Estimate: CHF 12'000.
… and an extremely rare Iranian AV 10 Tomans. The sale ends on March 27, starting at 7 pm CET.
To view all offered lots please click here.