[bsa_pro_ad_space id=4]
18-04-2015 – 01-01-1970
eAuction #36
Auctiones' new eAuction
Auctiones announces that eAuction #36 is taking place from April 5 to 19, featuring 201 lots from the following areas: Greek (22), Roman Provincial (12), Roman Republican and Imperial (26), Byzantine (9), Islamic (11), Modern (119), Lots (2).
Agathokles. Tetradrachm, c. 308-305 BC. Estimate: CHF 850.
Highlights in the ancient section include an Agathokles Tetradrachm, an Alexander AV Stater, a series of important rarities from the BCD Peloponessos collection …
Traianus. Dupondius, c. 107-110 AD. Estimate: CHF 1,200.
… and an EF Traianus Dupondius with bridge reverse.
Philippe VI. Royal d'or. Ex Vinchon 2002. Estimate: CHF 2,500.
The modern section features an EF Philippe VI Royal d'or, an EF Charles VI Ecu 'dor, a very rare FDC AE 5 Centimes 1878 Bordeaux, a very rare Conrad of Geneva AR Obol, …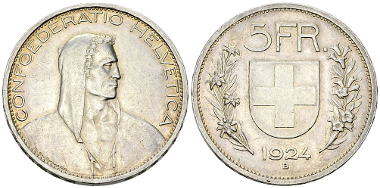 Switzerland. 5 Franken 1924 B. Estimate: CHF 750.
… a rare Swiss AR 5 Franken 1924 B and a rare Canada 1 Dollar 1948.
The sale closes with two lots.
The coins can be viewed during the auction time in Bern, CH, by prior appointment.
You can browse through the auction catalogue on the Auctiones website.