[bsa_pro_ad_space id=4]
04-10-2014 – 18-10-2014
eAuction #30
Auctiones' new eAuction
Bern-based auction house Auctiones announces that eAuction #30 is taking place from October 5 to 19 2014 featuring 348 lots from the following areas: Celtic (18), Greek (20), Roman Provincial (2), Roman Republic (17), Roman Imperial (35), Byzantine (9), Islamic (31), Modern (185), Lots (31). This sale has a pre-sale estimate of more than 275'000 CHF and includes many rarities in sometimes pristine condition.
Lot 20: Hieron II. Dekadrachm, 274-216 BC. Estimate: CHF 5'000.00.
Highlights such as an FDC Hieron II Dekadrachm …
Lot 21: Olynthos. Tetradrachm, c. 410-401 BC. Estimate: CHF 10'000.00.
… a mint state Olynthos Tetradrachm, a Nikomedes II Tetradrachm struck on a huge flan, a run of Roman Aurei including Claudius, Traianus, Probus, Diocletianus and Constantius …
Lot 91: Licinia Eudoxia. Solidus, 437-439 AD. Estimate: CHF 25'000.00.
… and an exceptionally rare Licinia Eudoxia Solidus are to be found among the ancient coins, whereas the Islamic section includes a number of rare AV denominations.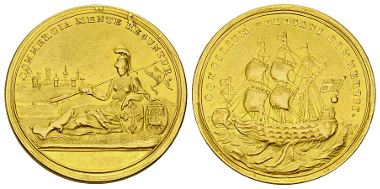 Lot 157: Toulouse. Jeton, 1710. Estimate: CHF 3'500.00.
The modern section features a large number of impressive coins from France, Italy, Portugal, Spain and Switzerland as well as some world coins. The sale closes with a small selection of Olympic medals and 31 lots.
The coins can be viewed during the auction time in Bern, CH, by prior appointment.
You can browse through the auction catalogue on the Auctiones website.